Budget woes continue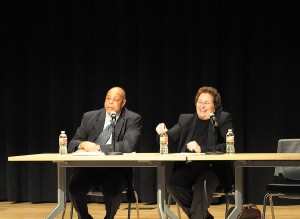 Proposed budget cuts, tuition and fee increases take center stage at ASUM panel discussion
As the possibility of budget cuts looms for Missouri colleges and universities, the Associated Students of the University of Missouri (ASUM) prepare to travel to Jefferson City for their annual Lobby Day this Tuesday.
ASUM, a system-organized student legislative group with a presence on all four UM campuses, held a panel discussion March 1 at the Student Union Theater with Provost Gail Hackett and Mel Tyler, VC-Student Affairs and Enrollment Management.
The event, titled "Where do my tuition dollars really go?" focused on the proposed cuts and their impact on the school.
Advocating funding for education was one of four issues on ASUM's legislative platform discussed at the meeting.
The others were a proposal to require landlords leasing to 20 or more students to put deposits in a third-party account, Board of Curator voting rights for the student curator and an initiative to increase the number of graduates in the fields of science, technology, engineering and math, known as S.T.E.M.
ASUM Executive Board member Caleb-Michael Files moderated the discussion, which focused on the proposed budget cuts.
Unless the state legislature rejects Governor Jay Nixon's proposed cuts of $66 million, a revision from $106 million in January following a national mortgage settlement with colleges and universities, UMKC will see a continued decline in state support.
That will translate to a 3 percent across-the-board tuition increase for students in the UM system, a figure based on the Consumer Price Index (CPI), a weighted-average measure of inflation.
However, the tuition increase will only cover a fraction of the diminished state support. The rest will come in the form of a soft hiring freeze.
Payroll accounts for 80 percent of UMKC total expenditures, Hackett said, and the school will avoid filling as many vacant staff positions as possible to reduce costs. The school will continue to hire, she said, but will be very selective.
Tyler said that student ancillary fees are likely to increase again.
"I think we need to have some discussions with students on [increasing ancillary fees]," Tyler said. "We don't have enough funds right now to support the growing demands of student organizations."
He encouraged students to consider the impact for future students.
"I take the hat off to the students who came before you because they made a decision for the students after them," Tyler said of the Student Union vote. "There were some heated discussions back then, but the outcome has been beneficial to us as we move forward."
Finding other substantial revenue besides sources is unlikely, Hackett said. Departments like Residential Life and Parking Operations do not generate revenues beyond what is needed to sustain their operations. Most donations to the school are restricted, meaning they have already been allocated.
The Provost also noted rising fixed costs the school cannot contain, such as utilities and maintenance, have placed additional strain on the budget.
UMKC, whose 13-1 student faculty ratio is well below other urban research universities, Hackett said, hopes to keep class sizes small despite the hiring freeze and anticipated enrollment increases.
"Students are at the center of our mission, and our goal is to make sure they are protected no matter what the cuts are," Hackett said. "But there's only so far you can go until you're cutting into the bottom."
The discussion of the other legislative agenda items was put on the back burner; the only one the university does not support is the proposal to require landlords owning 20 or more units to put deposits in a third party account.
Student Government Association President Jay Devineni, who attended the discussion, said SGA supports ASUM's agenda.
"We're standing together as far as the issues are concerned," he said.
Student Curator Amy Johnson, who ASUM would like to receive regular voting privileges on the Board of Curators, asked about ASUM's support to raise Missouri's cigarette tax – one of the lowest in the nation – to support funding to higher education.
Files said raising the cigarette tax is not on the group's legislative agenda.
Johnson also asked whether students had been surveyed to determine the legislative agenda.
Files said students were surveyed on the Columbia campus, but that ASUM was not very engaged with students at UMKC last year.
The small handful who attended the event included several members from ASUM and College Democrats who are traveling to Jefferson City this Tuesday.
Students Manon Ibrahim, Lauren Gepford, Elizabeth Brown and Amanda Morris are among those traveling.
All four vocalized support for tax increases to maintain the current level of state support to higher education and other services.
Morris said she fears the impact of cutting non-tenured faculty, whose teaching positions are not protected.
"I would rather not eliminate any classes if possible," she said. "It would be a concern if they eliminate non-tenured faculty. Many of them have a valuable perspective outside of teaching."
Morris hopes that if nothing else is achieved, Lobby Day will help get ASUM's point across.
"We're hoping to get the word out that we don't support the proposed funding cuts," Morris said. "As students, we're tired of higher education funding as the first thing to be cut. We want cuts that are more even and across the board."