Roos fall 4-3 to rivals IUPUI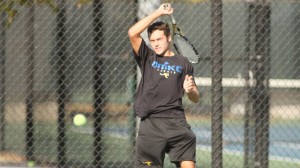 The futility of the men's tennis team continued in its Summit League opener as they lost 4-3 against IUPUI in Indianapolis.
Adding to the Roos problems was the absence of returning Summit League Player of the Year Nino Hasandedic and junior Abdulrahman Alawadhi in the defeat.
During doubles, the Roos lost two of three matches, leaving the Jaguars with the pivotal doubles point. The No.3 pairing of sophomores Tomas Patino and Max Helgeson won their match 8-4.
In singles play, both sides won three matches. Junior Grant Fleming's impressive start to the season continued as he defeated Jaguar Nick Volz in the No.1 match 6-1, 7-6. Patino, in addition to his doubles win, won the No. 2 singles match, defeating Chase Emerson 1-6, 6-2, 6-4. Freshman Conner Edwards won the No.6 singles match 6-1, 3-6, 6-3, tying the match at 3-3.
In the deciding match, Roo senior Gustavo Guerin lost 7-6, 6-1, 6-4 in the No. 4 singles match.
The loss dropped the Roos to 0-6, a slow start that Coach Kendell Hale attributed partly to injuries.
"We have had a tough go with four of our guys having to sit because of injuries and outside issues," Hale said. "When you play with only six players, that is a huge hit. So right now we're just praying everyone gets healthy."
After going undefeated in two of the past three seasons, Hale said that the Roos "have now become a target for every team."
The Roos will try to bounce back when they travel on March 7 to play Wichita State.