The Health Journal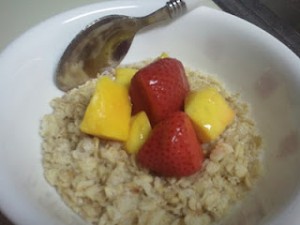 Oatmeal with Strawberries and Mangoes
My family is health-food crazy. I credit my husband for kicking off our new lifestyle of healthy eating. Two years ago he discovered he had high blood pressure and was at risk for diabetes. After a heartfelt conversation with his mom, he became serious about eating right and exercising. One of his first changes was including an oatmeal breakfast in his meal routine. I grimaced at the thought of downing a bowl of plain oatmeal each morning. No butter. No sugar. No flavor. Just oatmeal. Soon, however, I noticed that my husband was quickly slimming down. I decided to try this oatmeal diet for myself.
And it worked. I went from 165 pounds to 145 pounds in two and a half months. There were other factors involved (working out on a consistent basis and ensuring my other feastings were fitness approved), but the oatmeal breakfast was definitely a factor.
Though my husband ate plain oatmeal, my taste buds didn't agree. Refusing to use butter, sugar or flavored oatmeal, I flavored it with my favorite fruits: strawberries and mangoes.
Directions:
Buy a big bag of frozen strawberries and frozen mangoes (Aldi has great deals), put them in Tupperware, and chill them in the refrigerator the night before. After preparing one half cup of instant oatmeal, top the oats with one half cup of strawberries and one half cup of mangoes.
CALORIES: 247
SERVINGS: 1
The Benefits
Oatmeal
Only 150 calories are in every half cup.
Boosts energy without loading your body with unhealthy carbs.
High levels of Vitamin B, which enhances memory.
Oatmeal improves dry skin and damaged hair.
Strawberries
Half a cup of strawberries is only 22 calories.
Strawberries are high in anti-oxidants.
They're an alternative to oranges and potatoes for Vitamin C.
Great for keeping eyes bright and healthy.
Mangoes
There are only 75 calories in each half cup.
Those with diabetes can normalize their insulin levels by eating mangoes.
The vast amount of Vitamin E increases sex drive.
Rich in iron, mangoes are an ideal fruit for people with anemia.
Health Tip of the Week
Redo your seasoning selection. How we season our food can play a meaningful role for our health. While transitioning from fatty high-calorie foods to healthier choices, make cleaning out your cabinet of seasonings a part of your shopping list. Replace vegetable and canola oils with extra virgin olive oil. Try Truvia instead of sugar. Do not get sucked into believing that options like Splenda, Equal or Sweet and Low are healthy. Get rid of white flour and opt for whole wheat flour instead. Purchase powders instead of salts.
For example, try onion and garlic powder instead of onion salt and garlic salt. Natural seasonings such as parsley, basil and oregano are much healthier.