'Let the Good Times Roll' Trivia Night brings '50s flair to Court Warming week with help of student volunteers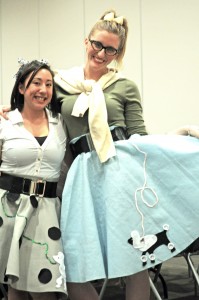 Last Tuesday's Trivia Night added a 1950s pop culture spin to the annual Court Warming tradition.
A total of 44 participants, in 11 teams of four, gathered at the Student Union to answer questions about '50s music and entertainment.
Additional non-competing spectators watched from the sides of the room as junior Esther Finney emceed the trivia questions and other Trivia Night student volunteers collected answer sheets and tallied scores.
In keeping with the "Let the Good Times Roll" theme, some attendees took nostalgia to the next level, including Mr. UMKC Daniel Baker, of Sigma Alpha Epsilon, and Miss UMKC Sarah Clarke, of Delta Zeta, who went all out with retro-inspired apparel.
But the daring few who dressed up were outnumbered by those wearing 21st century outfits unknown to Marilyn Monroe and Beaver Cleaver.
The festive outfits didn't appear to serve as a good luck charm. The overall winner and winning male candidate was Fabian Gonzalez, of Beta Theta Pi. The female Trivia Night winner was Amanda Argo, of Alpha Sigma Alpha. Both looked fresh out of 2012.
The trivia challenge produced moments of animation and suspense as teams scurried to come up with answers followed by the inevitable buzz of the timer.
The winners' cheers and losers' frustrated sighs and grunts after the answer to each question was revealed quickly gave way to laughter and socialization.
Although most participants were fraternity or sorority members of the Court Warming candidates, Trivia Night's appeal extended to other campus groups.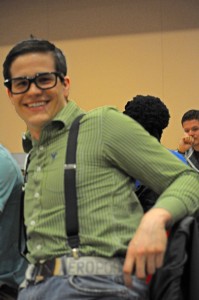 "I think that it was a great experience to be in a diverse crowd and learn trivia about the 1950s," said Zach Hinton, a trivia teammate of Mr. UMKC candidate Seto Herrera, who represented Queer Alliance. "You have some easy ones [questions] and some harder ones, but our true purpose is to have fun and become educated."
Taryn Acosta and Krystal Pittenger, graduate assistants for the Office of Student Involvement, organized Trivia Night.
"We begin this planning process before the winter break," Acosta said, "[but] the real business doesn't start until we return from break in January."
In contrast with previous years, when graduate students in the Office of Student Involvement have planned Courtwarming events, Acosta said undergraduate participation was emphasized this year.
"Our goal is for it to be completely student-run," Acosta said. "We want students to take ownership and plan the events."
To do so, subcommittees were created to plan each Court Warming activity, including Trivia Night.
"When we started, we only had eight students [in all committees], and it just kept growing each week because more people would bring their friends," Acosta said. "By the time it was all said and done, there were about 20 of us altogether."
Students chose the '50s theme partly because of the success last year's '80s-themed Court Warming, according to Acosta.
"Last year, people really liked the decades theme because it gave them more freedom to dress up as whatever they want," Acosta said. "It's a lot easier than having everyone wear a suit or a tux."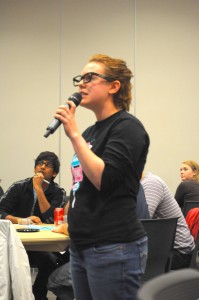 Acosta said Trivia Night was an all-around success.
"It's been awesome," she said. "As a co-chair of this process, it has been very meaningful for me to see the students work side-by-side and voice what they wanted. It has been a more enjoyable experience for both the students and us as advisers."