Listen to the 'Birdy' sing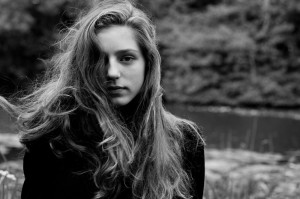 UK singer mixes popular songs with original twists
Birdy, the musical alias for Jasmine van den Bogaerde, is a U.K. born singer who recently released her first self-titled album.
Birdy was catapulted through Youtube. Her covers of various songs caught public attention. She also competed on British television singing competitions. She appears to be a young and promising artist. Her songs "Shelter" and "Skinny Love" have already been featured on the TV show "The Vampire Diaries." All of the songs on the albums are covers except for "Without a Word," but proved original.
Birdy has a simple, stripped-down sound. Despite her young age, her voice possesses old-soul quality enabling her to sing very mature and adult songs. Her voice is fragile and breakable yet brimming with power. Her singing is incredibly emotive and paints a story.
"1901" is a strong start to the album. It was an easy listen, possessing incredible depth despite its mellow nature. "1901" proved calming and retrospective. Like most of the songs on the album, "1901" was composed in a minor key, and played with melancholic instrumentals.
"Skinny Love" was a tranquil song wellsuited to the sad edge in Birdy's voice. It was plaintive and touching. It was the best of many great songs on the album.
"People Help the People" had an intriguing beat with fun rhythms. It's a catchy and a well-executed track. It had repetitive sections in the verses that felt like a natural drum beat, but didn't strike the listener as annoying. "The District Sleeps Alone Tonight" and "Young Blood" were creatively arranged with unique sounds that deviated from the original tracks. Birdy put an interesting spin on these popular tracks from The Postal Service and The Naked and Famous. Even her cover of The XX's "Shelter" exhibited impressive vocals. It was an odd effect to those familiar with the original track but worked in her favor. Even for those who enjoy the alternative performances of the XX, it was a strong rendition.
"White Winter Hymnal" was cold and haunting. It was a tribute to dreaming for brighter days. It is a song that you can listen to during dark times to help you remember the good that will come again. The song's cyclical melody was reminiscent of the constantly changing seasons.
Her rendition of "Fire and Rain," a James Taylor classic, was inventive and eyeopening. It adapted and molded the song into an original musical work. It sounded like a different song thanks to Birdy's vocal arrangement. It was another stand-out on the album.
"Without a Word," written by Birdy, is the only original song on the album. It was a promising effort, hinting at a bright future for newcomer Birdy. The song is lovely, and while her lyrics feel worn down, they hint at a deeper hopefulness. Her voice was down to earth and real. There was a desperation behind the yearning in the lyrics and melody.
"Terrible Love" was very calm. It was a classic and relaxed end to a very exceptional album. All of the songs have a different style but coalesced to create a worthwhile album.
It is recommended for any listener.