A portal into Kansas City's Gay History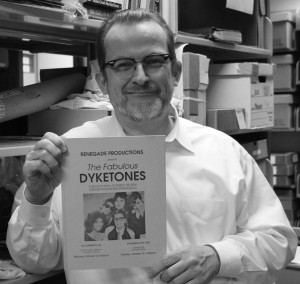 The Gay and Lesbian Archive of Mid-America explores history of local gay culture
Pursuing a collection of Kansas City's gay history proved difficult for Director of Special Collections Stuart Hinds, who recently began a special project called The Gay and Lesbian Archive of Mid-America (GLAMA).
GLAMA documents Kansas City's LGBT history through an extensive collection of artifacts and publications, but the archive took years to get off the ground.
Hinds first conceived of the idea in the early `90s soon after graduating library school.
"As an archives professional I have had a long interest in documenting the history of under-represented populations," Hinds said, "but, for various reasons, the circumstances to make it happen didn't coalesce until 2009 when enough support was garnered at both partner organizations to move forward in a meaningful way."
Since then, Hinds has received an overwhelming and helpful response through the LaBudde Special Collection's partnership with the Kansas City Museum, Jackson County Historical Society, and others, making Hinds' vision of preserving Kansas City's gay history a tangible reality.
GLAMA's main goal is to collect, preserve and provide accessibility for documents that provide a look into Kansas City's gay history over the past half-century. Part of this is through a collection of oral histories from Kansas Citians.
Hinds gives GLAMA presentations to organizations and presents various documents from the collection so audience members can have a hands-on experience.
GLAMA's collection includes textiles, clothing and costumes from past drag kings and queens, and audio recordings of performers, events and local artists.
The archive also includes photographs of people, activities, businesses and historic locations for the historic gay community, as well as letters and diaries detailing personal stories of LGBT Kansas Citians throughout history.
Memorabilia from businesses and organizations are also included, as well as publications connected to Kansas City's gay history. Various donors around the area have submitted several artifacts to the collection; Hinds has pursued several himself.
Collecting an account of Kansas City's gay history during a time of national oppression against the community has proven to be rewarding for Hinds, who has a vested interest in collecting the history from around the area. However, he wasn't able to pursue GLAMA as a solo project.
"While I have an intense personal interest in GLAMA, it is far from a personal project," Hinds said.
He reached out to other institutions for help in order to increase the project's pace.
"One of the reasons the effort resonates so strongly with our donors is that two prominent historical institutions are willing and eager to collect materials from these long-ignored groups and provide a long-term home for them, well after I am out of the picture," Hinds said. "This institutional commitment is critical to the success of the initiative and says to donors that their history is important and worth preserving."
LaBudde's partnership with the Kansas City Museum and Jackson County Historical Society has enabled the archive to collect various artifacts.
"This enables us to accept a wider variety of gifts than either partner could separately," Hinds said.
Hinds emphasized the importance of donations to GLAMA.
"I get a true rush with every donation, large or small, but as a historian I am personally drawn to the periodicals in the collection," Hinds said.
He also recognized how old publications helped the gay community keep in touch and organize events through newsletters and magazines at a time when the media would not publicize gay events.
"These local, regional and national publications served as the only channels for information related to the LGBT community," Hinds said. "Because there were so few of them and they were so widely read, they really served to formulate a strong sense of shared community for their disparate readership. And, in many instances, the periodicals were the only place to access information that was ignored by mainstream media."
Hinds recalls his experiences from this time period.
"The only place to receive reliable, up-to-date information in the early days of the AIDS crisis in Kansas City was through a free 'bar rag' that was distributed weekly at local gay and lesbian nightclubs," Hinds said.
Though progress seems steady, some desired artifacts are not easy to obtain. A former organization called the Phoenix Society for Individual Freedom published a newsletter called "The Phoenix" through a local advocacy group during the mid-1960s.
GLAMA only has two issues of "The Phoenix," but Hinds hopes to obtain more.
"In addition, we have identified several early male and female activists as well as some longtime female impersonators whose materials should be preserved, and those conversations will be initiated in the days to come," Hinds said.
Hinds has also been able to share GLAMA with interested students on campus and also gains exposure by setting up a booth during Kansas City's annual Pride Festival.
"I have had the good fortune to be invited by a number of faculty to classes where I have presented materials from the Archive, and each of these visits has resulted in intense student interest in the collections," Hinds said.
Hinds acknowledged the contributions of donors.
"Our donors are our biggest and most obvious supporters," Hinds said. "It is only through their generosity that the [GLAMA] exists. And sometimes these donors go beyond their initial gift to assist with the development of the collection."
For instance, Bruce Winter and Kirk Nelson donated Winter's garment collection worn during more than 30 years of his career performing as drag queen Melinda Ryder. Donors have also sponsored GLAMA fundraisers.
David Jackson, County Historical Society Director of Archives and Education, has donated proceeds from the sale of his book "Changing Times: an Almanac and Digest of Kansas City's Gay and Lesbian History" to GLAMA.
Hinds' work has not gone unnoticed. Other LGBT archives across the country have expressed interest in GLAMA.
"There are a number of similar archives across the country, and several of them have provided us with copies of selected resources," Hinds said.
To view GLAMA's online collection and learn more, visit www.glama.us.