Lady Roos can't stay with Bulldogs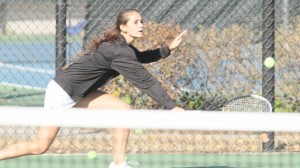 The women's tennis team fell 6-1 to Drake on Saturday morning at the Roger Knapp Tennis Center against the Bulldogs.
The Roos fall to (1-4) for the season, while the Bulldogs (8-1) remain unbeaten in all five of their home contests so far this year.
In doubles play, No. 3 Roo pairing of sophomore Gabriella Pintos and freshman Madeline Schulte recorded the only Roo win in an 8-3 victory. At No. 1, the French pairing of Laura Bouet and Eva Dalvai lost 3-8 to Bulldogs senior Gabriela Demos and Slovenian junior Manca Krizman.
In the singles, Drake was a class above the Lady Roos, achieving victory in five of the six contests.
At the No. 6 line, Schulte took her doubles form onto the singles field, defeating Bulldog Ali Patterson in straight sets 6-0, 6-3 for the sole Roo victory of the day. At No. 1, Dalvai was the only defeated Roo to win a set as she was beaten 0-6, 6-2, 2-6 by a highly-rated Klavdija Rebol.
The Lady Roos will travel to El Paso, Texas on Feb. 25-26 for contests against UTPB and UTEP.