Nelson throws his weight around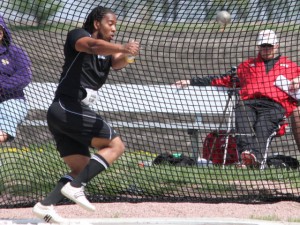 Weight-throwing junior Ramon Nelson stole the headlines at the University of Central Missouri Classic, recording a personal best throw of 58-10.25 (17.94 meters) on Friday evening in Warrensburg, Mo.
While Nelson took the weight throw title with his efforts, his teammates were in close contention as they proved dominant in the event, taking three of the top four spots.
Sophomore Kris Leverette finished 2nd with a mark of 57-04.25 (17.48 meters), while freshman Cade Lambson placed 4th with a personal-best 51-07.25 (15.73 meters).
Nelson also led the Roos in the shot put event as his distance mark of 52-01.75 (15.89 meters) was enough for 4th place.
Again Leverette (44-02.00) and Lambson (49-08.25) were in close contention, both finishing in the top-10, taking the 8th and 5th places respectively.
For the men's runners, senior Brett Guemmer placed 8th in the 3,000 meters after he produced a personal-best 8:55.61 in the preliminary qualification round and clocked 9:01.04 in the final event.
Freshman Charles Hinton took 13th place in the 60-meter dash with a final time of 7.31.
For the women's side, senior Denise Banda continued the Roos' weightthrowing dominance with a 2nd place personal-best throw of 55-06.25 (16.92 meters), while also finishing 8th in the shot put with a 39-09.75 mark (12.13 meters).
Senior Kimoya Harriott competed with Banda in both events, finishing 4th in the weight-throw, marking 53-09.75 (16.40 meters), and 9th in the shot put with a throw of 38-08.25 (11.79 meters).
Junior Susan Brueggman also found some rhythm, finishing 6th in both events, with a personal best weight-throw mark of 51-00.75 (15.56 meters) and throw of 42-03.75 (12.87 meters) in the shot put.
In the long jump, freshman Lynette Cottingham finished 3rd with a mark of 16-07.75 (5.07 meters), sophomore Jasmine Cooper placed 4th with 16-07.00 (5.05 meters) and sophomore Michelle Momo took 7th at 16-06.00 (5.03 meters).
In the triple jump, Cooper led the Roos with her 4th place finish (35-05.00), while Cottingham (33-10.25) and Momo (33-08.00) followed in 8th and 9th places respectively.
For the women's runners, sophomore Taylor Spencer finished 3rd in the 3,000 meters after clocking in at 10:55.28, while sophomore Meg Doss recorded a personal-best time of 11:00.66 for a well deserved 5th place finish.
Junior Stephany Johnson rounded out the Roos' notable performances at the UCM Classic with a 3rd place finish in the 60-meter dash with a time of 7.88.
The track & field Roos will travel on Feb. 24-25 to Fort Wayne, Ind. for the Summit League Championships, which will be hosted by IPFW.