Roos fall 1-0 in Hawaii farewell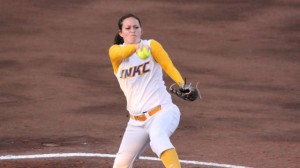 The softball team closed out its sixgame stint in Hawaii with a tough 1-0 defeat to the University of Hawaii Wahine on Feb. 13 in Honolulu.
The Roos fell to 2-4, while their Wahine opponents continued their impressive 6-0 record, albeit in a one-run contest.
The Wahine won the opening encounter just three days prior in the 2012 Oceanic Time Warner Cable Paradise Classic by a 5-1 scoreline.
They found the Roos to be much tougher opponents this time around, particularly on the defensive end as junior pitcher Deanna Friese produced an impressive display.
The 2011 Summit League Pitcher of the Year held a no-hitter while recording nine strikeouts through five innings.
However, the sixth inning proved pivotal, as the Wahine forced the only run of the game. Despite the efforts of consecutive hits in response from senior Megan Ussary and junior Emily Ott, the Roos could not register a run and ended their tour of Hawaii with a hard-fought loss.
Head Coach Meredith Smith was impressed with her team's performance and praised her pitcher for a phenomenal display.
"I'm very proud of the girls and Deanna as she did a great job for us tonight going against a tough Hawaii lineup," Smith said.
The Softball Roos will compete in the Evansville Tournament on Feb. 25-26 in Evansville, Ind. The Blue & Gold will compete against Butler twice, Evansville and Detroit.