Alumna's chemistry degree brings unique twist to Romance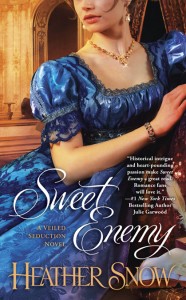 Heather Snow, a UMKC alumna who graduated in 2002, recently published her second novel, "Sweet Enemy," through Penguin/NAL Signet Eclipse. It is the first of three romance novels in the series.
Snow came to UMKC as a chemistry major, but also intended to write novels after graduation. She earned a Bachelor of Arts degree.
Snow soon found she preferred creating chemistry on a page rather than in the lab. She explained how her chemistry degree helped to provide a foundation for her novel, and how she drew inspiration from her time at the university.
"An exhibit at the Linda Hall Library of Science and Technology, which I may not have even known existed had I not attended UMKC, inspired the story," Snow said. "I don't want to say what exhibit, lest I give away part of the mystery! However, I can say that scientists were involved, which started a 'What if?' mystery in my mind. I then started to create characters that would fit the story idea."
The main character of "Sweet Enemy" is a chemist, influenced by Snow's extensive chemistry knowledge. Her chemistry background aided her in fleshing out the novel's plot.
"The heroine of my novel is a Regency Era lady chemist who goes undercover as a husband-hunter at an Earl's house party to discover what his family has to do with the murder of her father," she said.
"My decision to make Liliana a chemist really came from the 'write what you know' adage first time writers hear all of the time. Having a chemistry degree myself, I thought I could lend my voice well to her character, as well as give her a unique way of looking at the world and some specialized skills when it came to getting in and out of trouble."
Snow couldn't recall exactly how long it took to write her first novel due to the birth of her first child, but had a stricter deadline when writing "Sweet Enemy."
"I'm guessing [it took me] a year or so, total writing time, spread over a couple of years," she said. "My second novel, however, written on deadline, took about six months—even with the addition of a second baby. Funny how those deadlines change things!"
Though Snow was always passionate about reading, she acknowledged the struggle of being new to the fiction writing process. She openly welcomed criticism to transform her writing style.
"The writing process was much more difficult than I expected," Snow said. "When I really dug in and analyzed what made stories work, I realized that writing fiction is a craft, one that has to be studied and honed. I had to accept that I knew very little about it even though I'd been an avid reader all of my life. I had to be open to tough criticism and be willing to swallow it, learn from it, and change how I wrote."
She also noted the surprising ease of the publication process for her novel, though her method of pursuit differed from most authors.
"The publication process was much easier than I expected—though my case was very rare. I entered my first manuscript in the Romance Writes of America's Golden Heart contest, the most prestigious unpublished romance contest in the world, and it became a finalist," Snow said.
Because of the main character's distinctive occupation as a chemist, "Sweet Enemy" had a unique appeal in the romance genre.
"That got me a lot of agent attention, and I quickly had several offers. Once I chose my agent and went out on submission, 'Sweet Enemy' sold in three weeks at auction to Penguin/NAL," Snow said.
Snow discussed her plans for the other two novels in the series.
"The second [novel], 'Sweet Deception,' comes out August 7, and features a Regency-Era Bones (of the Temperance Brennan variety, not the Star Trek kind though) who gets tangled up with a Regency-Era James Bond. A third will follow in 2013. After that, we'll see whether I carry on with the series or start another," Snow said.
She was also pleased with the reception following the release of "Sweet Enemy." Numerous fans expressed their support through e-mail and social networking sites.
"Sweet Enemy" is now available for purchase wherever books are sold. It is also available in e-book formats.