Customer service, police style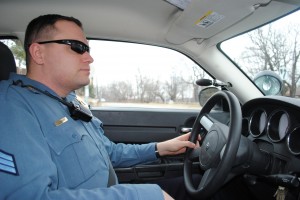 'We're here to help out'
From Rape Aggression Defense instruction to personal escort services and lost and found, the UMKC Police Department focuses on student needs.
"We're customer service oriented," Sergeant Josh Briner said, preparing for a police ride-along.
Briner said people generally see him as someone with answers, whether it's for directions or what to do with a parking ticket.
He explained that since the call load of the Kansas City Police Department (KCPD) is high, the UMKC Police Department is a good resource for the campus and surrounding community.
Because of its low call load, response time is quick and efficient.
Briner is one of five sergeants in the Patrol Operations, which also includes 17 patrolmen and Captain Don Simmons.
In addition to patrol staff, the department also contains Support Operations (the behind-the-scenes people), which includes records, a detective, the crime prevention unit and Captain Joe Rucinski. Michael Bongartz oversees it all as the Director and Chief of Police.
The core values of the Department, as listed on its website, are service, integrity, courage, respect and community.
The UMKCPD has a mutual aid agreement with the KCPD. The university's officers can do anything the KCPD officers can do – write city tickets for violations on the city streets, make arrests and transport them to the KCPD jail. "Any crimes on our property, we take reports on," Briner said. "The city doesn't take a report; we do. We have a detective on staff who investigates it." UMKCPD  patrols from Volker Boulevard to 55th Street, and from Brookside Boulevard to Troost Avenue.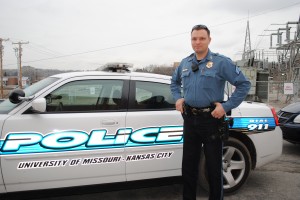 Although UMKC officers can write tickets, they often leave that to Parking Operations. On such a ticket, they can include an "improper driving" citation, which makes for a significantly larger fine.
This denotes a moving violation – speeding, driving the wrong way, running a stop sign, etc.
The majority of cases seen by the UMKCPD are thefts – items stolen from cars,  offices and residence halls. Crimes against persons (i.e. assault) are rare.
Briner responded to the department headquarters at 4825 Troost Ave. last Wednesday morning for a ride-along – he would have a citizen passenger in his car for a few hours.
At about 10:30 a.m., Briner, along with two other officers, responded to multiple calls of a disturbance in the Student Academic Support Services (SASS) building, lights on and sirens wailing.
Once inside, the officers separated the involved parties and took their statements.
The disturbance was only verbal, and no charges were going to be filed. The officers filed an information report containing the statements of the involved parties, and forwarded this to Student Affairs for further action.
At about noon, a call came in about a stolen bicycle. A description was given of the thief and the bicycle, as well as the possible direction he headed.
Briner and another officer drove around looking for him. The call had come in about 10 minutes after the theft. The bicycle owner was not entirely sure of the direction the thief headed.
The officers did not see the bike or the thief, and took the report of the stolen bicycle to file for the owner.
At about 12:30 p.m., Briner did a building check at Epperson House. A building check ensures that nobody is inside the building who should not be, and that there is no property damage, noticeably missing property or any violations of university rules and regulations. Epperson House passed this building check.
Briner said the Department's low call load is a good thing beyond just response time. It means their preventive efforts are working.
He said the main point is just to drive around and be seen, to have a presence on the campus and in the surrounding community.
"When I was an officer, I worked midnights," he said. "There was a time I remember when two months went by and I didn't take any reports on anything."
As a Sergeant now, Briner is the supervisor of his shift. The officers respond to calls and take reports.
Briner ensures that reports are completed accurately, officers are doing their jobs, and he responds to questions and to disturbance calls.
Briner said that if he could change something about the UMKCPD, he would want to make its public image more positive.
"I'd want to educate people about what we do," he said.
The UMKCPD will be moving after the new parking structure is completed. The structure will include a mail room and enough office space for the department.
"Maybe when we move, people will be more aware of us," Briner said. Simmons agreed that the move will be a positive thing.
"It will be arranged kind of the way we want it," he said.
Simmons said the most common offense the department handles is people breaking into cars. He stressed that people should do what they can to avoid making themselves or their cars easy targets.
The department also escorts money for the Cashiers and Ticket offices and provides an escort service.
"Anytime somebody feels unsafe to walk somewhere, we can escort them," Briner said.
Simmons also stressed the availability of the UMKCPD.
"We're here to help out," he said.