The restaurateurs next door: Pizza 51 honored with restaurant association award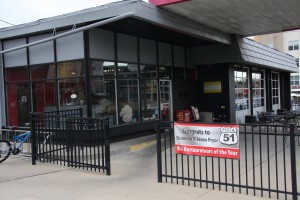 Pizza 51 owners Jason and Shannon Pryor have seen their business come a long way from the college pizza joint they envisioned seven years ago.
The couple was recently chosen from a pool of dozens of nominees to receive one of two 2011 Restaurateurs of the Year award from the Greater Kansas City Restaurant Association (GKCRA).
The Pryors got into the restaurant industry after Jason saw a gas station for sale on the corner of 51st and Oak streets in 2004. At the time, he worked for Costco, but believed the gas station was the perfect place for a college pizza joint.
Jason and Shannon took a leap of faith and opened Pizza 51 in September 2004. Since then, Pizza 51 has become an important part of the Brookside and South Plaza neighborhoods.
In September 2011, the Pryors opened a second location in another former gas station in the Kansas suburbs at 60th and Mission Road.
There were some complications that the Pryors faced when starting Pizza 51.
"There are obstacles thrown our way all the time," Jason said. "When opening, we had a lot of work to do in reference to converting the old gas station and the licensing process that followed regarding the change of use."
The Pryors are active members of the Missouri Restaurant Association. During 2008 and 2009, Jason served as GKCRA President. He currently serves on the board of directors for the Missouri State Association. He has also served on the Kansas City Health Department Food Advisory Board as an industry representative.
In 2011, Pizza 51 was recognized with the Grade A Food Excellence award for demonstrating excellence in compliance with the city's health codes.
"To say Jason and Shannon have impacted the local restaurant industry would be an understatement," 2011 GKCRA President Buddy Lahl said, "Jason and Shannon have not only given countless hours to our organization, but they both inspire us on a daily basis with their entrepreneurial spirit and commitment to success."
The Pryors said they felt honored to receive the award; their original goal for Pizza 51 was simply to be a college pizza joint.
"I'm not sure how the process of selection occurred," Jason said. "We were most likely chosen for the time spent in the association and working to address the issues that face our industry along with civic involvement."
Pizza 51 has been quite successful as a local business, becoming a staple at UMKC.
"We are fortunate to have such a diversified customer base that not only includes the students and staff of UMKC along with the community in and around the South Plaza and Brookside area," Jason said. "We are also very fortunate to have the support of the neighborhoods and business communities."