Women's Tennis downs Creighton for 1st time in UMKC history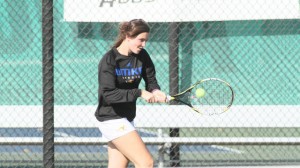 Women's Tennis
The women's tennis team picked up its 1st win of the 2012 season with a 5-2 victory over Creighton at the Carriage Club in Kansas City last Friday. The Roos, 1-3, had suffered 21 consecutive losses to Creighton.
The Bluejays (1-2) won the the opening doubles match 8-5 before the No. 1 doubles pair of junior Eva Dalvai and Laura Bouet countered with a tight 9-7 win for UMKC. Gabriela Pintos and Madeline Schulte sealed the doubles points for UMKC with a 9-8 (8-6) tie-breaker.
In singles play, Dalvai won 6-3, 6-3 at No.1, while Bouet took the No.2 match, coming from behind to win 6-3, (8-6), 7-6. Amelie Amsallem sealed the match at the No.4 spot, beating Elizabeth Vermillion 6-4, 6-2, while Schulte was victorious at No.6, 6-2, 6-4.
The Roos won four of six matches in singles, as well as taking the doubles points. They will now travel to face Drake, Chicago State and Northern Iowa on Feb. 18-19 in Des Moines, Iowa.
Men's Tennis
The men's Tennis team dropped to 0-5 with a 4-3 loss against Creighton on Thursday at the Hanscom Indoor Tennis Center in Omaha, Neb.
The Bluejays (2-0) took all three doubles matches and the doubles points. Junior Grant Fleming and sophomore Cameron Schoenhofer narrowly lost 9-8 defeat in the No.1 match.
In singles, the Roos split the six matches. Due to injury, No.1 player Nino Hasandedic was unavailable. Fleming stepped up to No.1 and won 7-6, 5-7, 10-7 victory, his team-leading third win of the season. At No.4, Schoenhofer defeated Ryan Norman, 6-1, 7-5. Freshman Conner Edwards took the points at No.5, with a 3-6, 7-5, 6-4 win.
The Roos will continue their season with a Summit League match on Mar. 3 against IUPUI in Indianapolis.