'Red Tails' Heart pounding close calls, humor, romance, drama, suspense and misfortunate situations-turned-lucky-circumstances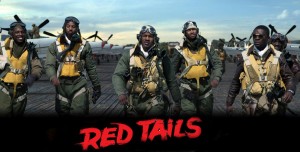 "Red Tails" is a tear-jerking to say the least, with messages of loyalty, leadership and courage.
The all-star cast, 90 percent African-American, delivered Oscar-worthy performances.
Terrance Howard Ne-Yo (who also performed two songs from the soundtrack: "See-See Rider" and "They're Red Hot"), and Cuba Gooding, Jr. are a few familiar faces in the film.
Tristan Wilds (HBO's The Wire and CW's 90210), Marcus T. Paulk (famous for his role as Moesha's little brother, Miles) and Nate Parker (famous for his role as Henry Lowe in The Great Debaters) are also cast members.
"Red Tails" is among George Lucas' finest work. Historically accurate and contextually honest, Lucas provides amazing insight into what life may have resembled as one of the 332 black officers fighting in World War II known as the Tuskegee Airmen.
The movie is based on the true events according to the book "Red Tails, Black Wings" by John B. Holway. The musical score are produced by Terence Blanchard, who is known for his work on Spike Lee's films.
The movie takes place in Italy, 1944 during a time in which black men had to struggle to fight for America.
The first scene of "Red Tails" actually incorporates a quote from an Army college study conducted in 1925 that referred to black men as "subservient," "inferior" and "cowards."
As the film noted, "Politics is the art of post-poning a topic until it is no longer relevant."
As the movie begins, watchers are introduced to a lively crew of officers soaring in the skies. The men are cool and confident, contrary to expectations. Each character is different, but they all fit together like puzzle pieces.
There is the responsible captain who, ironically, has a drinking problem and his best friend, the hard-headed, cocky one, who is always ready for a good fight. There's the Christian who holds firm to his faith and his photograph of a black Jesus and the young kid who just wants to earn his manhood.
As the film says, "Nothing is an adversity; everything is a challenge."
The men are part of an experiment in which they are literally earning their right to fight. Despite unfair conditions such as their hand-me-down planes and by-passed target missions of shooting up trains and trucks, the officers remain resilient with high hopes.
After a string of lowly missions, the colonel lands the men a real mission.
Upon almost flawlessly completing the mission, they are rewarded with brand new planes. They paint the tails of their planes red.
Then, just when they think they have finally earned respect, they are informed that instead of fighting in the next mission, they will be escorting the bombers to their targets.
Of course, this doesn't go over well until Howard's character puts it all into perspective: "Victory is the bombers you get to the targets, the husbands you get home to their wives, and the fathers that are returned to their children."
"Red Tails" is a must-see for all ages.