Alumnus lives out his dream in film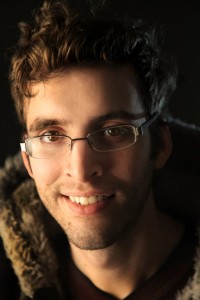 Nick Everhart, a UMKC alumnus, has worked his way up in the film business, becoming successful enough to help start a production company.
The most recent film Everhart worked on featured actors Billy Boyd ("Lord of the Rings"), Sean Astin (Rudy, "Lord of the Rings") and Christopher Lloyd (Clue, "Back to the Future"). I've been making films since middle school," Everhart said. "It started out as a goofy hobby, and then in high school I realized I could actually make a living doing it."
Everhart graduated from UMKC in December of 2006. Immediately after his graduation he moved to Los Angeles.
About a week later, Everhart was hired for a low-budget feature film, "The Apocalypse" as a production assistant. He worked about 100 hours a week even though the position was unpaid.
His determination and dedication eventually paid off. The company hired him as a production coordinator for the film "Transmorphers."
"It was a big upgrade, because then I was getting paid a whopping $250 per week," Everhart said.
Not only were there nice monetary benefits, but Everhart also met many important contacts.
"Because of that experience, I befriended the director of "Transmorphers," and I've been working with him ever since,"Everhart said. "He was the writer and director of our new film, 'Dorothy and the Witches of Oz.'"
After gaining a foothold in Los Angeles, Everhart and several of his associates formed a company located in Louisiana called Bullet Films. Bullet Films produced five films back-to-back for the SyFy Channel.
Bullet Films then moved to Connecticut, and it was there that the company produced "Dorothy and the Witches of Oz." Everhart headed the film as a co-producer.
The stars of this film include many famous faces, including the aforementioned Astin and Boyd.
"The main actors were wonderful," Everhart said. "They're such amazing professionals. They don't need to rehearse or anything. They just come in and nail these awesome performances. It was a blast."
One of the best experiences of the film for Everhart was working with Lloyd in "Dorothy and the Witches of Oz."
"I was very excited to work with Christopher Lloyd in particular, because I was a huge fan of his from 'Back to the Future' and 'Roger Rabbit,'" Everhart said.
"He was a kind, quiet, magical man."
"Dorothy and The Witches of Oz" tells the story of the now grown Dorothy Gale, who is a successful children's book author.
When she moves from Kansas to New York City, she realizes that her books are actually based on repressed childhood memories and are quite real. Eventually the two worlds collide and the Wicked Witch of the West shows up in Times Square.
The film will be shown in Kansas City on Feb. 24 at the AMC Studio in Olathe and at Town Center in Leawood.
Everhart has a lot more to achieve in his career. He loves all parts of the film industry and has worked in various jobs in the business. He has enjoyed every position he's worked in the industry, but prefers directing films.
"I love all aspects of the filmmaking process, which is why directing is my favorite role," Everhart said. "As a director, you get to get your hands in every part of the creative process and you get to work with talented artists who collaborate to bring your vision to life. It's a very special feeling."
He stays busy, and is currently working on several projects. He just finished directing a short film called "The Scout." It is one of three stories in a new horror anthology film called "Penny Dreadful's Picture Show."
His short segment of the film is about a group of boy scouts on a camping trip who encounter a monster in the woods.
"It's an homage to the Amblin films of the '80s that I grew up loving like 'E.T.,' 'Goonies,' 'Raiders of the Lost Ark,' etc.," Everhart said.
Everhart is enjoying his career, which is just beginning. The most rewarding part of making movies for Everhart is having people watch his films.
"The reason I want to make movies is to tell stories and entertain people around the world," Everhart said. "Even on a small film there are dozens of artists and craftsmen that work tirelessly for countless days and months (sometimes years) to complete a project. If people don't get to see and enjoy the product of all that hard work, then what's the point?"