Recitals prepare dance seniors for the future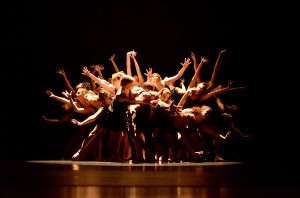 Spring 2012 senior class is the largest in years
The dance program is preparing for a large graduating class for senior recitals this year.
The 2012 seniors, 19 total, will be the largest graduating class of dance majors in the past several years.
These seniors have also had the opportunity to learn choreographic works by guest artist Gary Abbott, the Associate Artistic Director of Chicago's Deeply Rooted Modern Dance Company, in a special residency for dance.
The senior recitals serve as the capstone project in the dance program, so seniors will prepare their pieces, graduate and begin their dance careers.
Because of the class size, there is more hustle and bustle than usual.
"The last time we had this many seniors was 2009," said associate dance professor Sabrina Madison-Cannon.
Each recital will be under the direction of a faculty member: Dee Anna Hiett, Sabrina Madison-Cannon, Abbott and Ron Tice.
Each recital will feature the work of a different group of graduating seniors. Dance students are required to choreograph a faculty-approved composition to perform in a recital; one group piece and one solo piece. They are also required to perform a faculty-approved recital solo, either choreographed by the student or by an approved choreographer. As described in the student handbook, it must consist of two different dance forms studied in the four years of coursework, including one solo and at least one work choreographed by the student.
Often dancers work through injuries to avoid missing a crucial opportunity or letting down their peers in the production.
Dance students are required to master both ballet and modern technique (one at least a 300 level, the other at a 400 level) as a part of their program curriculum.
Other dance forms and styles are also taught (such as jazz, tap and flamenco), so that students will be exposed to a variety of styles. Mastering a variety of forms is not only enriching, but it helps make dancers more versatile and flexible, which translates to more dance work after graduation.
In addition to dance studio classes, students are also expected to learn the components of composition of movement for choreography.
They also learn an academic perspective to dance and its relation to the other arts forms, including subjects such as the history of dance, the kinesiology of dance, visual arts, acting, music appreciation and the history of jazz.
Dance majors are also required to fulfill General Education requirements, including computer courses, English, etc., just like other students.
These recitals give graduating seniors a chance to show all they have learned and demonstrate their mastery of putting all these skills together in their own productions.
Senior dance recitals will be held at 7:30 p.m. Feb. 8, 11, 15 and 18 in White Recital Hall in the Performing Arts Center. Recitals are offered free of admission and open to the general public.
Looking ahead:
The Spring Dance Concert will be held at 7:30 p.m. April 12, 13 and 14, with a 2:30 p.m. matinee on April 14 in White Recital Hall in the Performing Arts Center. The concert is offered free with a UMKC ID, and open to the general public for $6 to $8. More information is available online at http://conservatory.umkc.edu/conservatory-event-calendar.cfm.
Wylliams/Henry Contemporary Dance Theater will present its annual Spring concert at 8 p.m. May 11 and 12 in White Recital Hall in the Performing Arts Center. Ticket information is available online at http://wylliams-henry.org/.