'Imaginaerum' impresses musically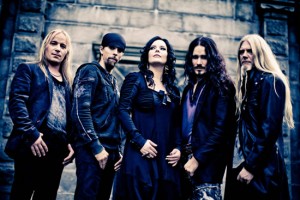 Finnish group Nightwish delivers a polished, complex album
Nightwish, the third best-selling "symphonic metal" group in Finland, has released its seventh studio album "Imaginaerum."
Reading the track listing caused skepticism. Generally, a song title like "Turn Loose the Mermaids" would provoke cynical laughter from any listener.
However, after listening to the first two or three songs on the album, I began to take Nightwish more seriously.
The first track on the album, "Taikatalvi," which is in Finnish, begins with an eerie music box introduction.
In English, the title translates to "Enchanted Winter," which seems appropriate for the tone of the song.
It sounds reminiscent of a lullaby, as the male vocalist Marco Hietala gently croons (through the voice of a barbarian) the lyrics of the song.
The theme of magic and mysticism is present throughout, and the transitions on the album are phenomenal.
From a technical metal/orchestral standpoint, this is an excellent album. In fact, the score is so brilliantly written that it feels like the whole album should be transformed into a soundtrack. If the lyrics weren't so bizarre, I would say a musical could be made based on the album.
The dynamics executed in every song by both the orchestra and choir are absolutely perfect.
My only complaint about the music is the lack of good metal guitar. Yes, the genre "symphonic metal" explains this shortcoming to an extent, but every guitar riff keeps simple and generic. Considering every other aspect is nearly flawless, I feel like the band could have been more original with its guitar riffs.
On the fourth track, "Slow, Love, Slow" Olzon seems to be in her element, as does everyone else involved. The song is slow, again with a lullaby feel. Olzon is able to showcase her abilities as a vocalist, mostly due to the softer nature of the song. About halfway through, the song introduces a beautiful jazz line in the brass section, followed by a minute and a half of a jazz guitar solo. This was my favorite part of the album. When the song first began to play, I wasn't expecting to hear such a lovely jazz twist.
By track five, "I Want my Tears Back," the album fell apart.
The song begins with a generic heavy guitar riff, followed by a tortured voice wailing the title of the song.
Overall, the album lacks lyrical depth but the music is able to make up for it tenfold. The orchestra ranges everywhere from jazz to Celtic interludes, all of which are fantastic. If you're a Nightwish fan, this album is a must-have. If you have an appreciation for music and find yourself able to ignore awful vocals and lyrics, this is a great album to pick up.