Rugby team finds its niche on campus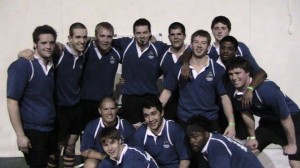 Rugby has been struggling to compete and thrive on the UMKC campus for approximately three years.
"I believe it is important to establish our team on campus because it is a contact sport which we do not have," said Aaron Dzik, a member of the UMKC Rugby team. "People enjoy watching football on Saturdays, but our school lacks a football team, so why not replace it with a more aggressive sport which provides the same quality of athletes for a very enjoyable watch?"
Doing so, however, has been an uphill climb. The rugby team has had trouble recruiting new members due to the relative obscurity of the sport to many people, and the popular thought that rugby is a rough and dangerous game. According to Dzik, the most rugby is shown in the sports media is the "occasional highlight of someone getting hurt on ESPN, which promotes the idea that it is a very dangerous sport which will guarantee injury for anyone who plays. However more players are seriously injured while participating in a football game than a rugby game."
Rugby has been given more of a focus in recent years, due to multiple films' releases that feature the sport, such as "Invictus" and "Forever Strong"
"I love playing because it is a unique sport that doesn't get a lot of recognition at the moment but is rapidly growing throughout the United States as of recent years," Dzik said.
However, the rugby team is closer to establishing themselves for good on the UMKC campus than they have ever been. The new year has finally given the rugby team some new recruits. The team has enough players to participate in multiple tournaments this Spring. One of the tournaments is as soon as Feb. 3-4 at the Kansas City Soccer Dome.
"In one word I would describe my rugby experiences as unforgettable," said Dzik, "I decided to play rugby here because I wanted to use my abilities to help establish a team for future students."
It seems as though UMKC Rugby is finally on its way to becoming a stronger presence on campus.