Zipcars are zooming onto campus: Eco-friendly and an easy way to have a car on campus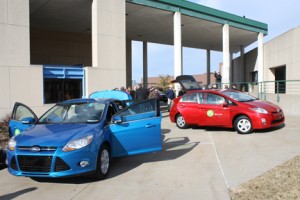 The UMKC campus, starting this month, will have Zipcars. The Zipcar has been a long time coming on the UMKC campus."We began exploring the possibility of a campus car-sharing program about two years ago," said John Austin, a UMKC Senior Public Relations Specialist. "The first thing that had to be done was to work with the city government to change local ordinances dealing with rental cars. It basically had to do with creating a distinction between car-sharing programs like Zipcar and traditional car rental. That process took about a year and we owe a great deal of thanks to the city of Kansas City, and particularly the office of Councilwoman Jan Marcason."
UMKC and Rockhurst University have launched this new partnership with Zipcar, Inc. The new transportation option is available 24 hours a day, seven days a week to all UMKC and Rockhurst students, faculty and staff ages 18 and older, as well as members of the local community ages 21 and older.
"We see Zipcar as a great opportunity to bridge the two university communities while helping reduce our carbon footprint," said Matt Heinrich, Associate Vice President for Facilities & Technology at Rockhurst University. "We're pleased to introduce Zipcar as a complementary environmental solution to those that exist on campus that will encourage carpooling within the campus community and offer relief to parking congestion on neighboring city streets."
The hope is that having these Zipcars added to the campus will help relieve the parking congestion in UMKC's parking lots and all around the school. "As an urban university, traffic and parking issues have historically been a top concern of ours," Austin said.
A Zipcar is simply a more convenient version of a rental car. They are a simple and cheap way to have a car at your disposal.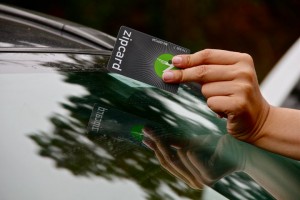 Zipcars let you reserve cars online 24/7. There is also the option to reserve from a mobile device. There are free apps for the iPhone, iPod touch and Android. There are different cars that can be rented based on one's needs, from trucks to hybrids, MINIs and coupes.
"We are thrilled to welcome the UMKC and Rockhurst University communities to the Zipcar University program, and are excited to help both universities offer cost-effective, convenient and sustainable transportation options for students, faculty and staff," said Michael Serafino, general manager, Zipcar Universities. "Zipcar is an environmentally friendly transportation alternative, and it's been proven that each car shared removes at least 15 privately owned vehicles from the road, thereby cutting down on emissions and congestion."
Zipcars are located around the city and in reserved parking spaces. The online site lists the places where the zipcars are located. When the users have finished with the car, they return it to the same parking spot.
The rates are comparable to most rental cars and include gas and insurance. When the tank is three-quarters empty, all one has to do is fill it with the fuel card located in the car.
"We believe the Zipcar program will be a perfect complement to UMKC's growing mission as a leader in promoting sustainability initiatives in the community," said Robert Simmons, Associate Vice Chancellor of Administration at UMKC. "With the great success and popularity of UMKC's student bus pass program and campus bike-share program, the addition of Zipcar is a logical next step in UMKC's mission to lead the way in exploring and implementing innovative and effective environmentally friendly programs to benefit our students, our community and our planet."