Kerwin Young: From producing hip-hop albums to scoring films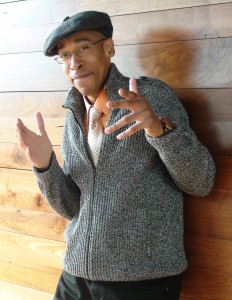 Kerwin Young, a student of music composition at the UMKC Conservatory of Music and Dance, has undergone extraordinary opportunities and experiences working in the music industry. Young has composed and produced music for such varied mediums as motion pictures, television documentaries, singing artists, symphony orchestras, wind band, jazz big-band and chamber ensembles.
"It's all the same level of work for me; be it advising Busta Rhymes on the production of his first single, creating the theme song for 'The Flava of Love' television series, scoring a motion picture, making beats for a rapper to spit on or writing a symphony for a large orchestra," Young said about his eclectic musical past.
His career began in 1989, when he landed a gig working at the recording producer for the rap group Public Enemy. He worked with its production team called The Bomb Squad.
Young has been working to jumpstart his music career ever since. He has worn many different hats in his quest, working as a professional composer, recording producer, musician and recording artist.
He has produced and collaborated with artists including Ice Cube, Luke Skywalker & the 2 Live Crew, Tevin Campbell, Bobby Brown, Eddie Kendricks, Busta Rhymes, Mobb Deep, Eric B. & Rakim, Angie Stone, Yung Joc and G-Unit.
Young has even worked with Rock and Roll Hall of Famers George Clinton, Bootsy Collins, the James Brown Band and Kenny Gamble & Leon Huff.
Young's inspiration comes mostly from everyday life. "You know, I walk a lot, and I like to be around people," Young said. "Music, to me, should also reflect relatable situations. I draw both emotional content and subject matter from all of these."
However, Young considers himself more than just a music producer/composer. He deems himself a cultural ambassador, saying it is "the result of having produced and worked with some of the most influential and controversial recording artists of the 20th century."
From 2003 to 2007, Young functioned as an assistant to the late Ghanaian ethno-botanist, Dr. Anthony Kweku Andoh, F.L.S. Andoh won national recognition for his abilities in botany and medicine. Young worked amid the destruction in Haiti, using the knowledge he had acquired during his work with Andoh. He put the experience to good use helping reforestation projects in Haiti. The project was led by Ambassador Andrew Young with help from Yele Haiti and Clarke Atlanta University.
His music is part of his experiences. These experiences are what stimulate his creativity both in the producing studio and composing. "I would say that current events, historical accounts, and personal encounters are what motivate me most," Young said. "I'm into what's happening; keeping my ears to the street and my eyes on the time."
He got the opportunity to compose for film thanks to the first complete album that he produced, "Pawns in the Game." A song on the album called "1-900-Ste-Oreo-Type," was licensed for the film "Green Card." This was only the beginning, with other songs appearing in "Sister Act 2," "Street Fighter" and "He Got Game."
In 1997, Young began composing for full-length, usually underground films, such as "Tar," directed by Goetz Grossman. His participation as a member of the Black Filmmakers Foundation opened his horizons.
"Much of my efforts have been spent assisting young sisters and brothers with establishing themselves as entrepreneurs," Young said.
When I asked him whether he is satisfied, he replied, "Not yet." Young's drive has gotten him far in his career thus far, but he is constantly looking toward the future; toward his dreams and self-expression.
"I want to score major motion pictures instead of scoring 'B' movies," Young said. "I also want to score a weekly television drama again, only this time with my name in the credits. I haven't done any work like that since the first season of New York Undercover back in 1994. Back then, I was a ghost writer/composer."
He has composed and produced original music for television shows that include: "New York Undercover (1994)," "Girlfriends," "(2000)" and "The Flavor of Love (2006)." He has contributed his talent to several documentaries, including the television documentary "Promised Land (1995)," "Searching for Jimi Hendrix (2000)" and "Time/Life's Let Freedom Sing (2009)."
"However, my career as a recording producer has been rewarding. I'm cool with the accomplishments made on that road, and that's why I've been able to focus on other things such as composing for orchestra, television/film, and school," Young said.
"I must also mention that when I started in the recording industry, a large majority of producers were composers as well. It's quite different nowadays wherein folks tend to get it twisted. These days, when you speak of a producer, nine times out of ten, this refers to someone who specializes only in beat-making; working with a drum machine and not possessing any knowledge on how to read or write music."
When asked who influences him, Young said, "My influences are beyond the 'who' of it, so I would sum it up as being my ancestors and 'pan-African culture.'"
What is to come for Young? In 2012 he will release "Un-released Film Scores Vol. 20."
He is planning on continuing at UMKC to earn his Masters degree. His goal is to teach music composition and orchestration while furthering his career as both a recording producer and composer.