New ticketing platform unveiled by The Sprint Center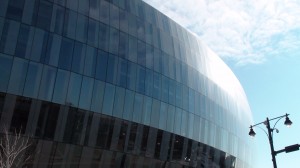 On Friday, Jan. 13, the Sprint Center and The Midland by AMC unveiled a new ticketing platform that may make Ticketmaster obsolete. The new platform is called axs Ticketing. The company primarily responsible for this change is AEG.
AEG is affiliated with the Sprint Center, and is also one of the leading entertainment and sports presenters in the world. AEG teamed up with Outbox Technologies to develop the axs platform, which began beta testing in August 2011.
Axs Ticketing has different features compared to the previously used Ticketmaster. It allows patrons to purchase tickets directly from the venue rather than going through a "middle man," which includes going to Ticketmaster's website and paying convenience fees.
The website, axs.com, opens a virtual waiting room shortly before tickets go on sale in order to give the consumer an opportunity to view the entire buying process. A purchase link is set up for each event that allows patrons to enter the waiting room. Once inside, the patron is able to view event details, ticket information and pricing. Patrons are also able to enter billing information and view available seats to save time once the ticket sale actually begins.
The axs platform has already proven to be largely successful in several cities across the country, including Dallas, San Francisco, Seattle and Denver. In Kansas City, the first four events to host the new platform were Drake, Lady Antebellum, Creed and The Unexpected Arrival of Diggy.
"We've received an overwhelmingly positive response to last year's launch of the axs service," said Todd Sims, AEG's Senior Vice President, Digital. "The next 12 months will see many new innovations and additions to the service. Starting in Kansas City with four blockbuster acts, and with our first arena to switch to axs Ticketing, is a great way to usher in the new year."
Outbox Enterprises developed white label technology that allows facilities to sell tickets under both the axs brand and each individual venue's brand. This is wonderful news for local venues, as it gives them a chance to connect more directly with fans while also providing them with centralized CRM services and core ticketing technologies.
"Outbox is pleased to provide the core technology that will enable Sprint Center to be the first of AEG's network of arenas to convert to axs Ticketing," said Fredric D. Rosen, Co-CEO and president of Outbox Enterprises. "Like the venues that have already had such seamless and successful transitions, Sprint Center's ability to interact with the public though their own branded websites, while retaining all the data received, is one of the most important elements that axs Ticketing, with Outbox's support, brings to our clients."
The axs Ticketing service is available to all mobile platforms, featuring Twitter and Facebook integration. Axs Ticketing, in regards to fees, discloses the full ticket price without any hidden charges.
As of last Friday, all Sprint Center patrons can now experience the new axs Ticketing platform when purchasing tickets.