Women's Basketball: Winning streak snaps at six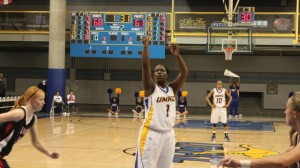 The UMKC women, riding a six-game winning streak, were derailed by a 75-62 loss to Summit League rival South Dakota State on Saturday night in Brookings, S.D.
Senior Dayon Hall-Jones and sophomore Eilise O'Connor led UMKC with 14 points each, while junior Kim Nezianya finished with 13. Nezianya grabbed a team-high nine rebounds, while senior Brianna Eldridge added seven, including four on the offensive end.
The Jackrabbits led 25-18 less than a minute before halftime before the Roos got two free throws each from Hall-Jones and Thomas to close the gap to 25-22.
The hosts, 11-7 overall and 6-1 in the Summit League, broke the game open with back-to-back three-pointers from senior Jill Young that started a 14-1 that pushed the lead to 16 with 11:20 left to play.
The loss dropped the Roos to 12-6 and 3-3 and came on the heels of a 74-64 victory over Nebraska-Omaha on Wednesday at Swinney
Recreation Center.
The Lady Roos' player of the season so far, senior Hall-Jones wasn't firing on all cylinders, but managed to contribute on the offensive and defensive side, finishing with 10 points, 3 rebounds and 2 steals.
UMKC's depth stood out as Nezianya proved the hot hand with 18 points, 11 rebounds, 2 twossists and a steal. She picked up her third double-double of the season.
Sophomore Eilise O' Connor chipped in 9 points, 11 assists, 4 rebounds and 6 steals in 37 minutes. The Roos' bench contributed 33 points,  with senior Jade Tinner leading the charge with 10.
lA three- point shot by freshman Lexis Hardiek secured UMKC's largest lead, 21-17, with 5 minutes remaining in the half.
The Mavericks knocked down four three-pointers but the Roos headed into intermission with a 34-31lead..
In the second half, the Roos' consistent defense, which forced 25 turnovers overall, denied the Mavericks a field goal for more than than the first 6 minutes.
The Roos led 65-50 with 5:20 to go, but the Mavs went on a 10-0 run. Junior Emily Blakesley then came through with a crucial 3-pointer to halt the run and swing the momentum back into the Roos' favor.
The The Mavericks, 10-8, will officially join the Summit League next season.
The Roos travel to North Dakota State on Jan. 16 in Fargo as they hope to start a new win streak.