Timothy Wolfe named University of Missouri system president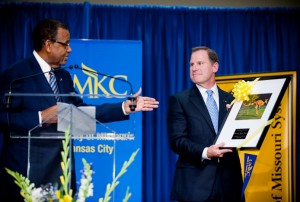 Timothy M. Wolfe was announced the 23rd system president by the University of Missouri Board of Curators. Wolfe described the position as "a once-in-a-lifetime opportunity."
After a search that spanned almost a year, the Board of Curators found a replacement for Gary Forsee, the system's previous president, who resigned the post to care for his ailing wife.
The question that many wonder is whether Wolfe will be able to follow Forsee, a former CEO of Sprint Corp., who brought a strong knowledge of business and applied it to the system's schools, cutting millions of dollars in costs from the four universities.
This is a high standard to follow, yet an important consideration due to the low economy and the probability there will be less than plentiful state aid to the state schools in the near future. This is juxtaposed with UMKC's goal to build a separate campus for the Conservatory of Music and Dance, in which Wolfe will take a leadership role.
"We're doing the right economic development with business leaders and political leaders and our leaders on the campus," Wolfe said.
"[It's] doing the right economic development to create jobs for our wonderful graduates to compete for and hopefully be placed in."
This is a hopeful statement for students who are graduating, on the whole, with more debt and fewer job possibilities. Part of Wolfe's speech at the conference that announced his new position dealt with the need to increase returns and keep the tuition costs low.
The announcement was made on the UMKC campus. "I think Kansas City will be very pleased," said the chairman of the UM Board of Curators who led the search, Warren Erdman, who is from Kansas City.
Wolfe plans to visit all four schools in the University of Missouri system before he officially starts his position on Feb. 15. Wolfe said, "They are our customers, so I want to hear from the students."
While business knowledge is important for the president, he will be required to work with both the business side and the academia. The president's duties include overseeing the campuses in Columbia, Kansas City, St. Louis and Rolla and their combined 72,000 students, 7,814 faculty members and 16,718 staff members.
However, as UMKC Chancellor Leo Morton explained, "Who you hire has a lot to do with what is needed at the time. I don't think we need any one helping us redesign any curriculum. What we need is someone helping us in getting the rest of the state to appreciate the value of this university, and that is marketing."
Wolfe certainly has the credentials. He is an alumnus of the University of Missouri (MU) school of business. He has previously been an executive with Novell Inc., which is an infrastructure software provider.
"I will work tirelessly to help all our campuses reach their full potential," Wolfe said. "I can't wait to get started."