Men's team disappoints with losing streak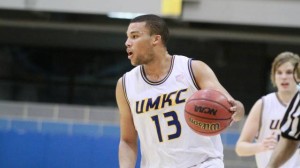 After a promising 72-67 victory against Canisius on Dec. 16, the men's basketball team has had some bad luck, losing its last five outings.
The Roos (7-10) lost 89-54 against No. 20 Michigan State on Dec. 19 before falling 87-62 to New Mexico on Dec. 20.
These top opponents were a wake-up call for the Roos, and despite punishing scores, served as tough preparation for the Conference games that lie ahead.
While it is always great to post a well-earned winning record, at the end of the day if a team don't win its conference games, then its season ultimately counts for nothing.
This will no doubt be the message Head Coach Matt Brown will preach to his players as they set about combatting their fellow Summit League members.
Unfortunately, in a tight game with Oral Roberts, the Golden Eagles eventually took the contest 72-65, while Southern Utah proved to be clinical from beyond the arc, winning 91-77 at the home of the Roos.
In perhaps the team's best performance of the holidays, the Roos were downed in double-overtime by the IUPUI Jaguars 83-74 on Jan. 3 in Indianapolis.
The 24 turnovers and a 21-point inferiority from the free-throw line resulted in a 67-point tie at the end of regulation time. The defeat was not without controversy though, as a breaking UMKC player was pushed over the scorer's table in the dying seconds of the game and no foul was called. The Roos' frustration was also pierced by an incorrectly set shot clock. The resulting delay seemed to halt the team's flow, with the Jaguars sealing the contest in double overtime.
While the Roos' 24 turnovers were self-destructive, leading to 31 Jag points, there were a lot of positives to take from the contest as Junior Thomas Staton led with a career-high 15 points, and senior Bernard Kamwa had a career-high game as he hit 12. Kirk Korver pitched in 13, and Reggie Chamberlain contributed 11.
As the Summit League Conference season gets into full swing, the Roos currently post a record of 1-4 and sit in 9th place.
The 12 remaining conference games will spell the Roos' fate, as the team looks to place in the top 8 and book themselves a place in the conference tournament.
Next up for the Roos is a challenging trip to the Dakotas as they face North Dakota State on Jan. 12 in Fargo before a Jan. 14 battle against South Dakota State in Brookings.