'People and Things' too breezy to be memorable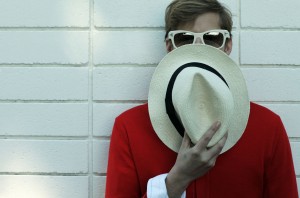 "People and Things" is Jack's Mannequin's third CD. The band features vocalist Andrew McMahon, who was the frontman for Something Corporate, guitarist Bobby Anderson, bassist Mikey "The Kid" Wagner and drummer Jay McMillan.
The album is pleasant and breezy, but doesn't break a lot of new ground, nor is it especially ambitious. It is content with being an easy listening take on the rock genre. There isn't much that distinguishes it from other rock albums. It is a nice album to listen to while driving with its simplistic rock/pop melodies and harmony. It is a stripped look at relationships without the overblown tropes, instead using simple structure.
The instrumentation is an interesting mix of string ensemble, acoustic and electronic intertwining within a single song.
"My Racing Thoughts" is an upbeat song with introspective lyrics. The contemplative lyrics, however, tended to stick squarely with the surface thoughts referenced in many pop songs. The lyrics, for the most part, fall into unassuming, unelaborate rhyming schemes. "Amelia Jean" and "Hostage" sound light and pleasant, but aren't exceptional. "Racing Thoughts" is a little more memorable than some of the songs that follow it; many seemed to use it as an outline and attempted to replicate it. This causes a repetitive feel to the album. "Release Me" cranks up the tempo and has a catchy feel. There is a lot more range from vocalist McMahon as well as a nice use of rhythm, piano and bright major key harmonies.
"Television" has a strong driving beat during the chorus, but falls into repetitive vocal harmony and instrumentation. The lyrics are better since they aren't quite as neatly structured, but are not particularly striking.
In the track "Amy, I," the bridge and the verses try to spice up the arrangement with different rhythm. However, in the chorus, the vocalist expresses how he has "never felt this way before." Unfortunately, we've all heard these lyrics before. The language in the lyrics is realistic, but too familiar to be considered innovative.
"Hey, Hey, Hey" allows for a stronger vocal feature with a focus on the lyrics and melody, with a featured background of melodic piano and also with steady drums and less repetitive vocal harmony. It is also the first song on the album with lyrics that I found compelling, and a convincing emotional connection between the lyrics and the singer.
The album continued in a stronger vein with "People, Running." The lyrics were memorable with a strong drum beat and interesting electric shading to the instrumentals.
"Platform Fire" proves Jack's Mannequin does better when the band isn't trying too hard to be hip and instead sticks with what it's good at. McMahon's vocals shine with less hectic, poppy backgrounds, especially when the melodic strains of electric instrumentation complement his voice rather overpower it.
"Restless Dreams" and "Casting Lines" have a decidedly somber and subtle feel to them, without being depressing. "Casting Lines" again shows how much potential and skill is behind the album, with a stronger portrayal of the emotion behind the song and the importance of the meaning of the story being told. It is quite the inspirational finish to the album.
Dashboard Confessional does a lot of what Jack's Mannequin seeks to achieve. Dashboard Confessional has less electric additions, but brings vulnerable lyrics rather than frail ones, with compelling story and sensation rather than mere sentiment.
"People and Things" is an easy listen with its mellow rock instrumentation. It is gone with the breeze, but leaves a pleasant memory.