Mercury Association helps students build better résumé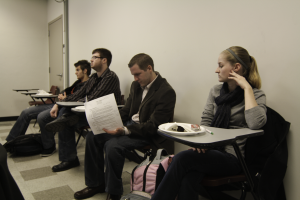 Around 15 to 20 students attended the résumé workshop hosted by the Mercury Association, Wednesday, November 30th. The workshop was held at Royall Hall in room 211 from 12 to 2 p.m.
The Mercury Association is a student organization that helps provide educational and career opportunities in the communications industry.
Sandi Dale from UMKC's Career Services spoke to students about developing a résumé.
Dale started by giving a presentation about Career Services and the aid offered to students. She also showed students how to log on to UMKC's student employment and internship database, a database that's used to help students set up appointments with career counselors, develop résumés, plan mock interviews, and find internships and jobs.
While students munched on pizza and snacks provided by the Mercury Association, Dale gave an overview of how to build a résumé and what to be cautious about.
Dale expresses being cautious of what is being posted on personal pages of social media sites. A lot of employers in today's job market search applicants' Facebook and Twitter pages to get an impression of the person they are considering hiring.
Dale also explained how it's important to never include personal information such as religion and political affiliation on a résumé because it might harm chances of landing a job. It's also against the law for an employer to ask for that information.
Dale clarified when cover letters are needed. Cover letters are needed if the applicant is not going to meet face to face for an interview because they are a way to showcase skills, talents and other information that wasn't available on the resume.
Dale gave all participants of the workshop a Career Services booklet, and held a question-and-answer session to help students with their personal inquires.
"I thought the workshop was a success," said Caitlin Higgins, secretary of the Mercury Association. "It was very informative and students questions about the résumé process were answered."
Eric Miller, president of the Mercury Association, said, "The workshop was very effective. It was good to see other students outside of the communication department show up. The Career Services Department is one of UMKC's best-kept secrets. I think a lot of people don't utilize it as often because of the location. That's why we (Mercury Association) host résumé workshops to make students aware. Once it moves over to the new student success center I think students will use it more."
For more information on Career Services and programs offered visit career.umkc.edu.
To find out more about the Mercury Association visit studo.umkc.edu/mercury. Also, like them on Facebook to stay informed and get current news and information about future events.