Alternative spring break offers unique experience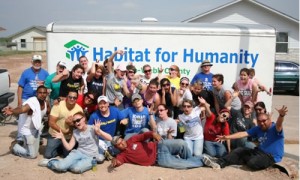 Alternative Spring Break (ASB) offers exactly what the title would imply, an alternative to the usual spring break experience.
"Alternative Spring Break works with Habitat for Humanity to help build homes for deserving families in need. We will spend four to five days working together to bring the house one step closer to becoming a home for that family. We have done almost everything on houses from framing, putting up walls, to dry-walling to painting and landscaping," President of UMKC Alternative Spring Break Craig Flanery said.
Thanks to the volunteers who help build the house, the residents can pay only $250 to $400 a month.
The biggest trip takes place over spring break; usually volunteers travel to a different state to help families in need. Their goal is to eradicate sub-par housing, and unhealthy living conditions.
"Some students want to give back to families in need during spring break. For all of the students that go on our trips it is an opportunity to meet and become friends with students that they would not normally get to meet; the students that go on our trips are from almost every school at UMKC," Flanery said.
ASB is responsible for about 10 build days throughout the school year; these are open to any students. Students are required to participate in two build days before they can go on the spring break trip.
"We like students to get some experience working on a house so that they know what they will be doing on the trip. We would hate for a student to come on the trip and not like working on a construction site. We also have a fundraiser requirement, and a team-building event the week before we leave for spring break, we try to do a few different things prior to the trip so that students will get to know each other a little bit before being stuck in a bus together for hours on end," Flanery said.
There is a build day on Dec. 3 when ASB volunteers with Habitat for Humanity in Independence, Mo. They will carpool to the event and food will be provided.
There are still spots available for people who want to participate. This year, and in 2009, Alternative Spring Break went to Laredo, Texas. In March, they are traveling to Lucedale, Miss. "I personally am really excited to have some great southern home-cooking and southern hospitality," Flanery said.
So far there are 24 spots open for students along with their faculty adviser. Registration begins in mid-January. At that time the cost of the trip will be announced.
ASB has had a lot of interest in this non-traditional way of spending the week off from school. "This will be the fourth spring break trip that we have had at UMKC," Flanery said.
Many students, after one trip, start to work to help impact the community positively, even planning their own volunteer trips. "We hope that students will become hooked after the trips and want to continue to volunteer with Habitat for Humanity," Flanery said.
If you have any general questions email [email protected]
The Alternative Spring Break Roo Groups page is https://roogroups.collegiatelink.net/organization/UMKCASB