The students' speech: Speech competition comes to campus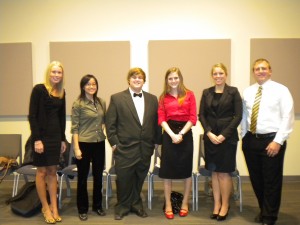 On Tuesday, Nov. 15, the annual Faye Kircher Speech Competition was held at UMKC. Six students were selected from Communication Studies 110 classes to compete. These students were chosen through semi-finals held previously within the Communication Studies Department.
The competition is scholarship based. Students get a $200 prize for the winning speech, $100 for 2nd place and $25 each for 3rd, 4th, 5th and 6th places. The money awarded is provided by the Faye Kircher Endowment Fund.
"My mother was a Communication Studies 110 instructor and this competition was established in her name, following her death," said Fred Kircher, son of Faye Kircher. Faye Kircher received the Outstanding Teacher of the Year Award from UMKC in 1990 shortly before her retirement.
The competition benefits students in a myriad of ways. For example, students develop confidence and the ability to make speeches and presentations to large groups. "This event is the culmination of all of the basic public speaking classes. Students are asked to present a persuasive topic with a logical argument. They are asked to serve as an advocate for that topic and cite several sources," said Communication Studies 110 Program Director Linda Kurz.
"This competition is a great benefit for the students to have the confidence and ability to stand up in front of such a large crowd and deliver these messages," Mayor Sly James said.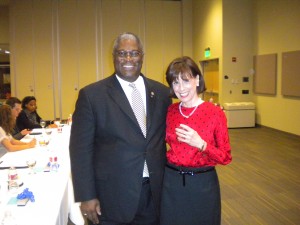 The six competitors, Corinne Bort, Tiffani Bradbury, Sarah Hummel, Caleb Madison, Jacob Oldham and Victoria Wu, faced a panel of three judges. These judges included James, Kansas City Debate Director Gabe Cook and Associate Professor G. Thomas Poe of the Communication Studies Department.
The speakers, from various majors, had diverse and compelling topics ranging from "The Exotic Pet Trade in the U.S." to "Homeopathy: An Argument of Water," which was the winning speech.
"From my perspective, I was very impressed by the quality and variation of speeches," James said. "Most of the topics were not expected but they were all very good."
Madison, a freshman Music Composition major, spoke about homeopathy, the science of healing a person through drugs in minute doses producing symptoms similar to those of the disease they claim to cure. He captivated the audience with an opening about the difference between downing a bottle of Tylenol versus taking an entire bottle of homeopathic medicine.
Madison argued that homeopathy and placebos are very hazardous, saying "it is really dangerous to go around believing in false evidence like that," referencing the treatment of cancer with placebos. Supported by the research of Daniel Dennett, who argued that people should be skeptical about what is told to them, Madison found inspiration for his speech. Wanting to question what is fed to people on a daily basis, he challenged his audience to "become human" and be skeptics themselves. "People are frauded into believing that homeopathy is better than medicine and it's actually dangerous to their health," Madison said.
What exactly makes a specific performance a winning speech for the judges? There are several key aspects to a winning speech competition. "Outstanding delivery and meaningful content for the speech are important and what sets one candidate apart from the rest is the total performance of the individual. One element can make you stand out," Cook said.
"With a persuasive speech it is important to keep eye contact and I was very impressed with that with all of the candidates. You lose a little of that persuasiveness if you break eye contact," James said.
The depth of the topics presented impressed the audience. The candidates delivered their speeches with confidence and finesse. "The competition itself was an extremely pleasant experience and a great opportunity to share the nature of this topic with a big group of people like this," competition winner Madison said.
All of the six candidates presented interesting, well-researched topics about which they are passionate. These topics were relatable to many students and offered information and possible solutions to the issues facing society today, including the economy, health, and social issues like exotic animal trading.