Find a job with MTV's career coach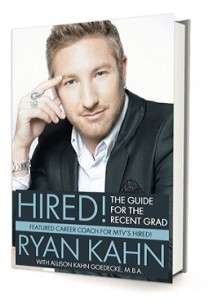 Graduation is quickly approaching and there are many seniors who that secured their dream job. Finding a job is tough work especially in the struggling economy today.
Ryan Kahn, a career coach with Dream Careers Inc. and nationally recognized star of MTV's Hired a 20 episode documentary series which helped recent graduates find their dream job, has some tips for students that will help lead them on the path to the right career.
Kahn has helped more than 1,000 graduates attain their dream job. He recently released his first book titled "HIRED! The Guide for the Recent Grad" which is a step-by-step manual broken down into four key steps that Kahn himself uses to help his students and graduates find their dream career. The book also includes a section that has a variety of sample templates to review such as cover letters, resumes and thank you letters.
What is the best way to spice up your resume?
Keep your resume to one page. The reason for that is because the HR (human resources) personnel who look through resumes are extremely busy and on average only have about 10 to 15 seconds to look at each resume. You want to make sure that whatever you're trying to get out there or say about yourself is there and very clearly stated. Make whatever experience you have clear and easily readable at first glance. Another tip is to leave off "references upon request." It's just a waste of space. If the employer wants to know about your references they will ask. That space can be utilized to tell more about yourself. Keep the resume conservative; you're not going to get the job by putting your resume on florescent pink paper. Put the focus on your experience and you will get the job.
What is the best strategy to search for a job?
Pick a handful of positions that you're truly qualified for and go after those full-force. Put all your energy into securing a job at one of the companies on your list. What that means is to meet people that work at that company. Do everything possible to meet someone who works there. Do an internship at the company, or ask if you can volunteer. Engage in the companies' social media sites, add them to twitter and facebook, share their post and tweet them. The more you interact with the companies on their social media sites the more they will began to notice you. Ask for an informational interview. It's your chance to ask an employee how they started off as a college graduate and got to where they are now. One question to ask in the interview mat include, "When you were my age, what did you do, how did you get your break in the business?" That's a great way to level the playing field and let the employer reminisce how the journey was to make it to their current position. It sometimes makes them more sympathetic to you and you can learn a lot.
'Challenges present opportunities'. People say the economy is bad and it's hard to get jobs. But those challenges can become your biggest opportunities. Maybe someone had recently been laid off from a company you want to work for and had five years of experience. But you being a recent graduate can sneak into that exact same position for probably half of the pay that they were asking for. There's a lot of ways you can be creative and smart to leverage yourself into their company. Students nowadays are great with social media and technology. play that to your advantage. Let them know that you have avid skills you can bring to the table. Most importantly friends help friends get jobs. If you have a strong network of friends that know someone that works at a company you want to work, ask them for connections. You still have time to build your network and build relationships. Networking can really help you secure a job. It also allows you a better chance than just cold call.
Ryan Kahn's book has more helpful and insightful tips on finding and securing your dream job. The book is extremely easy to read and the steps he includes in the book will help guide you on your career search with ease. You can find the book online at hiredguide.com, and at barnesandnoble.com, and is available electronically for nook books, and kindles.