The volleyball season: a retrospective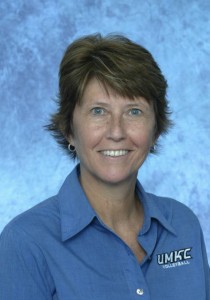 The UMKC volleyball team ended its 2011 season 12-17, 6-12 in Summit League Conference play. They closed with a saddening 3-2 loss to North Dakota State. The battle was hard fought, however, with the Roos staying neck and neck with North Dakota State.
"The NDSU match was a great testament as to how far the team progressed this year – taking the Bison to the wire in the fifth  (13-15) set showed the teams' competitive spirit and unwillingness to give in.  Despite that loss, our staff and team felt good about what they had achieved individually and collectively throughout the season," Head Coach Christi Posey said.
Kelsey Knoche led the Roo's in their last match with 18 digs. Three other graduating seniors reached double figures. Kara Thomas had 17 digs, Nicole Kerkman had 15, and Erin Wellwood had 10. McQuin posted seven total blocks, making herself a formidable force at the net. Four of the blocks were solo in McQuin's final game playing for the Blue and Gold.
"In retrospect, we believe the season was significant," Posey said. "Our goals as a new staff, were to provide stability, develop guiding principles to reshape the program and become a source of pride within the University Community."
Unfortunately they didn't qualify for the Summit League Conference Tournament.
"Despite falling short of that goal, we believe our players made great strides in several areas both on and off the court." Posey said, " The highlight of the this season was the turn around midway through the conference season where we went on a five match winning streak and going into the last match of the season, winning six of the last eight."
The Roos had a five-match Summit League winning streak after beating Southern Utah (3-1), South Dakota (3-2), IPFW (3-2), IUPUI (3-2) and Western Illinois (3-2).  This is the longest streak since the squad won five straight in `09 against Centenary, Oral Roberts, Western Illinois, IUPUI and Southern Utah.
Looking forward to the next season, Posey said,"Due to graduation and losing seven quality seniors, our 2011-12 squad will look markedly different."
The departing seniors are Elizabeth Beck, Nicole Kerkman, Kelsey Knoche, Christiana McQuin, Kara Thomas, Erin Wellwood and Demetria Williams.
"Each senior brought something special to our program and we're grateful for their contribution," Posey said.
The serions' time playing for the Blue & Gold spans from one to four years. Altogether they have a combined 22 seasons for the Roos. They have combined 2,158 sets and 605 matches. They have accrued 2,889 kills, 1,823 assists, 349 service aces, 4,316 digs, 111 solo blocks, 814 block assists, 925 total blocks and a .174 hitting percentage.
Kerkman leaves with the UMKC career record for digs, placing her ninth all-time in league history with 1,579 digs and tied for 9th with a 3.87 digs/set mark. McQuin has broken previous UMKC records after getting 360 block assists and 419 total blocks.  Her 419 total blocks place her 9th all-time in league annals.
"We are excited about welcoming six new freshmen with the hopes of adding another newcomer to that mix," Posey said.
Some of the players that will be joining the Roos' volleyball team are Taryn Miller, Nicole Wemhoff, Emma Hagedorn, Skyler Muff and Jessica Hendin They are all contracted after signing National Letters of Intent. They will, "continue their education and playing career with the UMKC volleyball program starting with the 2012-13 season," according to the UMKC Athletics website. The first three are all from Missouri. Muff is from Pittsburgh while Hendin hails from Kansas.
"Due to the experience of this season, our returning players will be more accustomed to the playing style and demands placed on them daily.  We have high expectations for next season and we will prepare diligently in the off season to give ourselves every opportunity to improve upon this season's outcome," Posey said.