UMKC hosts men's soccer conference championships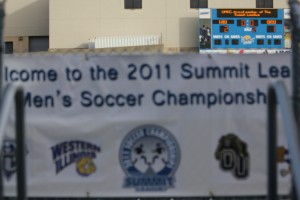 The Summit League Championships were hosted at Durwood Soccer Stadium on Nov. 12-14. The weekend event, which comprised of two semi-final matches followed by a quick turnaround for the final just two days later as the Summit Leagues top four teams battled for the championship. Having won the Regular Season title, Western Illinois were the first seed, followed by IPFW, IUPUI and fourth seed Oakland.
In the first semi-final Western Illinois defeated Oakland 1-0 to advance via a well-taken strike by senior midfielder Mariano Leo after only ten minutes. The Leatherneck defense held strong to secure a final birth after some late pressure from a hard-working Golden Grizzlie outfit who just could not find the back of the net.
The following semi-final was a goal fest, with Oral Roberts seeing off IPFW in a 3-2 contest. IPFW came out hot scoring the first goal just nine seconds into the game before a header from Golden Eagle Griffith Poindexter snuck into the goal to level the game at 1-1.  Oral Roberts gained their lead in the fifteenth minute when senior forward Max Touloute scored his second of the game. IPFW tied things up, but in the last thirteen seconds Stewart sealed a date with Western Illinois in the final with a clever finish.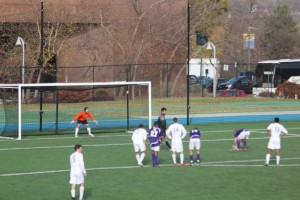 The final was a cagey affair as Oral Roberts and Western Illinois took to the field. Oral forward Paul Oliver headed the ball into the net, climbing high above the Western 'keeper to give his team a well-deserved lead going into the half. Western Illinois tied the game up with a defensive error from center-back Taylor Craig headed the ball into his own net. With only thirteen minutes left in the second half, tournament MVP defender Charlie Bales lived up to his title after he scored a penalty kick which was enough to give Western Illinois their second title in three seasons and fifth in history.