Occupy movement reaches Kansas City, UMKC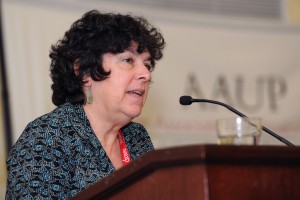 On Nov. 14, a handful of students gathered in the recreational area on the first floor of Johnson Hall.
Inspired by the Occupy protests across the country, they hoped to bring their message to UMKC students.
About 20 students, by estimate of organizer Zachary Mueller, camped out in Johnson from 8:30 p.m. Monday night to 10 a.m. the next morning.
Mueller explained the reason the students ended their occupation was because students in the movement feared a hostile reaction from the school's administration.
Mueller said he helped organize the UMKC group after participating in OccupyKC, an offshoot of the Occupy Wall Street protests that began in September of this year in response to growing income inequality and government policies that protesters believe unjustly favor big business and the rich.
Mueller also mentioned the school's increasing tuition and contract with Sodexo services as targets of the occupation, although the group's main purpose is to provide a voice to UMKC students who wish to participate in the movement.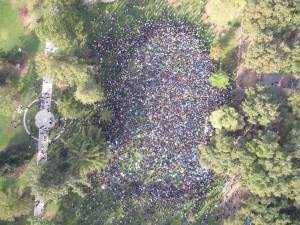 In other cities, the protests have lacked specific objectives, and in some, occupations of public spaces have lasted days and resulted in violent police altercations.
Tear gas was sprayed on student protesters at the University of California-Berkeley and the University of California-Davis.
Many conservative figures were quick to condemn the Occupy Movement, referring to protesters as "mobs."
House Majority Leader Eric Cantor, a Republican, accused the protesters of "pitting Americans against Americans."
Supporters of the movement were quick to defend it, drawing parallels to police brutality and acts of civil disobedience in '60s-era Civil Rights and anti-war protests.
However, the Kansas City protests have avoided any major police altercations or public controversy.
Judy Ancel, Director of the Institute for Labor Studies at UMKC, attributed this to cooperation between protesters and the local police.
Ancel, who works closely with area unions, has helped organize workshops for activists and participated in the OccupyKC protests alongside students like Mueller.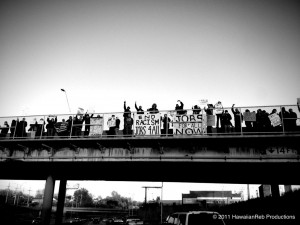 "Once I got some sense of what it [the Occupy movement] was, my first reaction was that it was about time that people started doing more than just an occasional demonstration to protest the inequality of wealth and corruption in our government," Ancel said.
A mere 1 percent of wage earners accounted for nearly 24 percent of all income in the U.S. in 2007, when the last recession began, about the same percentage as in 1928, the year before the Great Depression began.
But in between, the share of total income held by the top 1 percent declined to less than 9 percent by 1976.
"That's clearly related to what, in my view, is an attack on our living standard by corporate America and their friends in government," Ancel said.
Signs proclaiming "We are the 99%," the signature mantra of occupy protesters, were held by protesters as they marched from their base at Liberty Memorial to the Country Club Plaza on Sept. 25.
And again on Oct. 30, the occupiers gathered at Ilus W. Davis park downtown across from City Hall.
Afterward, protesters marched through Kansas City's Northeast neighborhood, one of the city's most racially diverse and socioeconomically disadvantaged.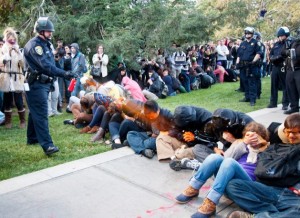 "The group had done a lot of canvassing in that neighborhood beforehand," Ancel said. "People came out to their porches and waved at us. That was clearly aimed at trying to reach out to communities of color and to take up issues of racism."
On Nov. 17, banners were dropped from the Prospect Avenue bridge over I-70, attracting an estimated 75-100 demonstrators.
"Banners were dropped there and several other bridges coming out of downtown," Ancel said. "That one got tons of honks from traffic below us. That was specifically about our failing infrastructure and need for jobs."
Ancel describes the reaction to the protests as mostly favorable.
"The people I run into are friendly and curious about it," she said. "There have been a lot of people who have shown up to the protests. They see the economic disparities and attacks on working people, and on unions, that have gone on for decades now and want to build a movement that challenges those attacks."
Ancel said local protests have had as many as 800 attendees, which is short of demonstrations in other cities, but large enough to gain media attention.
Ideologically, Ancel said members range from libertarians, to liberals, to hardcore socialists and anarchists, and also range in age.
The protests lack official sponsors and policy objective, although Ancel and others have been pleased with the media reaction and public discourse about inequality.
"I think there's been a change in what the media is paying attention to and a change in what people are talking about, but I don't think there's been any change in Washington or our state capitals," Ancel said. "The movement itself has not embraced concrete policy changes. We should be talking about jobs and how we invest in this country and how we take care of our youth."
The lack of clearly defined objectives has bothered some, including Preston Coughlin, a senior Finance major at UMKC who described the Occupy movement as "silly."
"When you look at this movement, it's violence, hatred and class warfare targeted at destroying civil society," Coughlin said, referring to the protests in New York. "They're defecating and having sex in public. Their focus is completely off-focus from what I understand."
Coughlin said he believes the problems identified by the Occupy movement would better addressed by protesting government policies that they believe led to the collapse of the financial sector.
"They're mad about economic inequality, greed, unemployment and financial services," Coughlin said. "They should be over in Washington. They [businesses] are in it to make a profit, not to screw people over. That's how the free market works, and that's the most efficient economic system we have."
Coughlin and other fiscal conservatives believe the income inequality statistics presented by the Occupy supporters aren't conclusive.
A 2007 Report by the Department of the Treasury, which Coughlin cited, found that less than half of those in the top one percent in 1996 were still in the top one percent in 2005. Additionally, more than half of all taxpayers changed income quintiles over the same period, and half of those in the bottom income quintile moved to a higher quintile.
"[The Census Bureau Data] is a lot more credible than taking a snapshot of the top one percent of people you think are there monopolizing the money," Preston said regarding the study. "There are people who have a competitive advantage and people are going to be at different levels throughout their lives, but that's part of the free market."
Those in the Occupy movement fundamentally disagree; they believe more, not less, regulation is necessary, and believe that despite a handful of incidents, their protests are inspired by peaceful acts of civil disobedience.
"If you look at the protests where there have been confrontations, every one of them I have seen has been caused by overreactions of the police and real abuse of police authority," Ancel said. "The occupy movement has been overwhelmingly nonviolent. It's not people camping in a park. It's a free speech demonstration aimed around the specific disagreements people have these days. To use this as an excuse to break up free speech is wrong."
Ancel likened the Occupy to other protest movements in American history.
"In most cases, citizens engage in nonviolent protests, but that doesn't mean they obey the law," Ancel said. "They march in the streets, sit-in, take over factories. They do things that are considered to be violations of authority. They are met with repression. We all say those people had a right to do that in hindsight, and I think history is going to say the same thing about the occupy movement. What they did was something that citizens ought to be doing when their government fails to represent them anymore."
Ancel said she doesn't feel the Kansas City protests have been met with repression, although the sentiment isn't shared by Mueller.
Conflict with administration
At UMKC, Mueller said students received "intimidating emails" from Assistant Dean of Students Eric Grosspitch.
The email in question contained what Mueller called a veiled threat from the school's administration.
"I received a recent report from UMKC Police about you being the responsible resident for a group arguing with a UMKC police officer while refusing to leave the Johnson Hall lounge on November 15, 2011," Grospitch wrote. "I am writing to inform you that some people may interpret your conduct as violating University policies related to complying with the directions of University officials acting in accordance with their duties as well as violating University policies that govern the authorized use of University facilities."
Mueller disagreed with Grospitch's statements about the encounter with the officer.
"The reaction has been very harsh to the point where it's been the biggest limiting factor for us to have any kind of momentum," Mueller said. "The school has been very passive-aggressive by trying to scare us into not doing anything on campus."
Grosspitch could not be reached in time to comment for this article.
A student who participated in the occupation at Johnson Hall, Caleb-Michael Files, a former U-News staff writer, claims his participation in the protests led to his firing as the Social Justice Coordinator for LGBTQIA/gender issues by Residential Life Director Kristen Abel, who could not be reached in time to comment.
According to the email, allowing students into Johnson Hall without having students check in or vacate the premises violated his contract.