All Around KC: Satisfy your sweet tooth with local holiday treats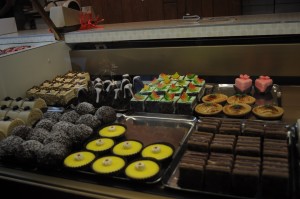 Forget the gelato and frozen yogurt, winter is about chocolate whether you like it or hate it.
I was first hooked on chocolate as a kid when my parents brought home boxes and boxes of Godiva chocolates. My cravings have persisted, but I have kicked my Godiva habit in favor of more local varieties to appease my chocolate addiction.
Best truffles: André's Confiserie Suisse (5018 Main St.)
Settle down with a cup of hot chocolate and imagine yourself in a quaint Swiss village tucked away in the Alps at André's. The establishment double serves as a restaurant and sweet shop, and remains locally owned by founder André Bollier, an immigrant from Switzerland, who set up shop in Kansas City in 1955.
The truffles, chocolates and pastries of all varieties are decadent and rich. The Grand Cru Truffles, made from rich Venezuelan, Madagascan, Bolivian and Ecuadorian cocoa varieties are a favorite, and are priced accordingly at $20.50 for a 16-piece box. The seasonal chocolate creations and Chocolate Orange Peels are also recommended. A variety of rich, savory pastries and tortes comprise the dessert menu, and a monthly calendar detailing the two lunch options served daily from 11 a.m. to 2:30 p.m. is available online.
Most inspired chocolates: Christopher Elbow (1819 McGee St.)
Those familiar with Glace's artisanal gelato will be happy to know (if they aren't already aware) that owner Christopher Elbow has an equally popular chocolate boutique in the Crossroads Arts District. Elbow's hand-crafted varieties boast exotic designs and flavors. Exquisite combinations of ingredients include French sea salt and caramel (Fleur de Sel), the Rosemary Caramel, Bananas Cury and Caramel Apple. Truffles include a variety of chocolate ganache flavors. The chocolates tend to be pricy (Christopher Elbow has been featured on Oprah and The Food Network,) but all chocolates are sold for $1/each during the First Friday events held on the first Friday of every month. A 16-piece box normally sells for $32.
Most reasonably-priced: Russell Stover (multiple locations)
A more affordable and easily found local chocolatier is none other than Russell Stover, which makes both Russell Stover and Whitman's chocolates. The headquarters is located at 4900 Oak St., adjacent to the UMKC campus, although the closest retailer is a short drive at 2814 Shawnee Mission Parkway in Fairway, Kan. A two-lb. assortment normally sells for $23.99, a better deal than most comparable brands.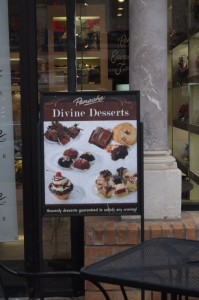 Most unexpectedly good: Panache (418 Nichols Rd.)
Panache Chocolatier on the Country Club Plaza offers a unique chocolate twist to surprisingly familiar snacks like popcorn, flake cereal and Oreos. Nearly everything can be found in both dark and milk chocolate varieties. The hot chocolate is another hit.
Other holiday treats:
If chocolate is not what the sweet tooth craves, there should not be any concern.
The Country Club Plaza, now boasting one of the largest and most festive seasonal displays of holiday lights in the country, is close to campus and offers non-chocolate alternatives.
Topsy's Popcorn, despite its unique-sounding name, is another holiday favorite (4706 Central St.). At Topsy's, popcorn comes in a variety of shapes and flavors, including festive holiday design tins of caramel, cheese, buttered, cinnamon, caramel peanut and caramel pecan flavor combinations.
The Better Cheddar is another year-round favorite, although it becomes increasingly appealing around the holidays. Its exotic cheeses and spreads make excellent gifts and is definitely worth checking out sometime if only to sample the gourmet cheeses.