UMKC launches campaign for the future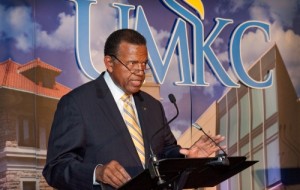 Two years after it began, the UMKC Foundation officially announced a funding campaign, dedicated to enhancing the university and raising $259 million within a seven-year period.
Chancellor Leo Morton unveiled "The Campaign for UMKC" at a dinner event last week, projecting 2011-12 to be the best fundraising year in school history.
"In a city that is first-rate, UMKC must be the academic cornerstone," Morton said. "Campaign funds will help with the ongoing transformation of UMKC and further the measures in our strategic plan."
Funding from the seven-year mission is expected to support scholarships and construction, and attract renowned faculty members. It's also expected to advance existing programs such as the Institute for Entrepreneurship and Innovation and the Urban Education Research Center.
Foundation president Murray M. Blackwelder explained the reason why the enterprise waited two years to publicize the operation in a report by The Kansas City Star.
"You don't want to announce a campaign that you can't succeed at," Blackwelder said in the article. "We feel that now we are over the tripping point. We feel sure we can be successful at reaching $250 million."
Thus far, the campaign has generated more than $100 million in contributions, largely provided by some of the largest donations in school history, including the largest donation ever by retired H&R Block Chairman Henry Bloch in September.
Blackwelder's optimism was supported by additional funding announcements at last week's dinner when the Foundation lauded three significant donations to the School of Nursing, School of Medicine and College of Arts and Sciences programs.
Bill and Irma Lou Hirsch were celebrated for making a $100,000 gift for a scholarship in the UMKC School of Nursing's online RN-BSN program.
Former UMKC School of Medicine Dean Dr. Marjorie Sirridge and her late husband Dr. William Sirridge were also acknowledged for providing $125,000 to enhance the Sirridge Office of Medical Humanities and Bioethics, which they helped establish in 1992.
In addition, alumna Dr. Linda Hood Talbott pledged more than $250,000 to support scholarships and awards in the College of Arts and Sciences and Bloch School of Management.
Nevertheless, the announcement of the fourth-largest gift in school history anchored last week's charge to the $250 million mark. Thomas and Vina Hyde pledged a $6 million gift to support the Chancellor's Fund for Excellence.
"This gift provides future chancellors of UMKC many opportunities for success," Blackwelder said. "To have an endowed fund from which the chancellor can distribute funds for the good of the University will have a profound impact on UMKC for years to come."
After providing significant contributions to the development and maintenance of the school, Bloch will serve as the Honorary Chair of the campaign's steering committee, with Tom and Vina Hyde and Robert and Ann Regnier serving as co-chairs.
"Ann and I, along with Tom and Vina, are honored to serve as co-chairs of The Campaign for UMKC and to be a part of the transformation that's taking place at this university," said Rober Regnier, President and CEO of the Bank of Blue Valley.
When the campaign ends in 2016, the foundation plans to separate the funding across various areas of campus need.
More than $53 million will be slated for need and merit-based scholarships, $5 million for an honors college and more than $47 million to establish highly competitive endowed faculty chairs and professorships.
Nearly $19 million will be provided to enhance current programs, including the Dental Clinic, the law library and the Urban Education Research Center started earlier this year.
The foundation also expects to appropriate roughly $60 million for construction, including new learning areas at the Conservatory of Music and Dance, renovations for research space on Hospital Hill and common student areas at the Miller Nichols Library.