Summit League Coach of the Year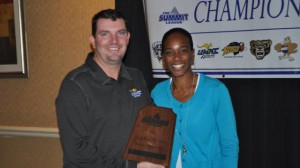 Three years after its initial kick, the women's soccer team finally found success under first-year Head Coach Chris Cissell. Cissell led the program to its first winning season (8-7-4) ever and led them into the Summit League Tournament with a number three seed. Cissell credits his early success to his players.
"The players bought into our system and what we were teaching and coaching them," Cissell said. "A lot of good players were already on the team and on campus; we were able to bring some good players in as well."
The Roos' success this season stems from hard practices, players he described as "very coachable" and a change in style that Cissell brought with him and also the Assistant Coaching of former UMKC men's soccer player Miguel Rodriguez.
"We just instilled a real belief and confidence that we were a good squad and were going to work hard," he said. "We were very attack oriented and used that style of play. We were a hard team to score on and every game we threatened on scoring opportunities."
The team's last game of the season was a 2-1 loss in the Summit League tournament to North Dakota State. The game was close and the score was tied 1-1 with only 1:52 left. Cissell said the off-side goal that gave the Bison victory was "questionable" but spoke highly of his team.
"We proved that we belonged by playing a team that won conference last year," he said. "Playing with a 1-1 tie till 1:52 was left; we proved we can compete with the top teams in the conference."
The turnaround for the Roos was remarkable this year. Junior Randi Simmons, who has been on the team since its initial 2009 season, has bold visions for the team's future.
"The future of this program is extremely bright," Simmons said. In the very near future I fully expect that we will have championship rings on our fingers, and in the next couple years, UMKC soccer will be in the top 50 of the NCAA rankings. I know that this team has immeasurable potential and the sky is the limit."
Last season's 1-15-2 record is part of the reason Cissell was introduced. Cissell spent 20 years coaching men and women's soccer at William Jewell College previously and compiled a 279-92-21 record. Cissell is a proven winner and has brought that attribute with him to UMKC. Cissell knows the program is on the right path and points to two key victories from the season that reassure him.
"We beat two teams that are in the national tournament. We beat Oakland (2011 Summit League Tournament Champion) 2-0," he said. "We beat Florida International down in Miami on the road 3-2 in overtime. Both of those teams are in the national tournament. To go from 1-15-2 last year to a winning record this year and a win over two national tournament teams, it says a lot."