Men's soccer coach stays positive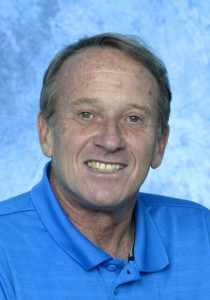 The men's soccer team finished the season 5-9-3 This was considered to be a rebuilding year for last season's Summit League regular season champions. Head Coach Rick Benben believes his team is on the right track and had a good season.
"I think it's important for me in particular to keep a realistic view of where we are," Benben said. "I think we did have a good season, I mean we did have to rebuild our team after last year. Over the course of the season, I think we played pretty well. I think we were really unlucky down the stretch, there were a lot of bounces of balls that didn't go our way."
Benben also explained why last year's team was so successful.
"We had nucleus of players who were outstanding for us," Benben said. And a lot of kids were four year starters and arguably last year might have been the best team we've had here since I've been here."
Like most of coaches coming off a losing season, Benben knows that taking these lumps now will prepare his team for greater success next year. Benben worked hard to keep his players positive and told his team not to dwell as much on hardships.
"I tell our players," 'Hey it's not about one practice or one game, you as a player and everything we do as a team is an accumulation of their efforts over time.' Benben said. "I think that's the same way with our program, I think that our men's soccer program has performed at a real high level."
Benben, who has a career record of 105-127-27 and four regular season Summit League titles under his belt, tries to keep his program consistent. His goals for next season, which will be his 15th, are the same as his goals every other season during his tenure.
"The goals are always the same," Benben said. "First of all we want to play well. I think with our program, there are just two overriding things we want to do. We want each kid to be the very best player they can be because that helps us to have the very best team we can have. We also want everyone to walk out with a degree. That is the two overriding things we want to accomplish as a team and as individuals."