Potty-mouth puppets teach valuable lessons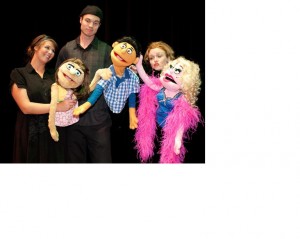 "Avenue Q" isn't a musical for your mother, unless your mother likes raunchy, witty and hilariously offensive things. If she does, congratulations, you have a cool mom.
If you don't like most musicals, you're in luck, because "Avenue Q" is not most musicals. Winner of three Tony Awards, including best musical in 2003, it was co-written by the composer of "The Book of Mormon," which was written by the South Park creators and won nine Tony Awards last June. It's a comedy that's fresh, edgy and relishes in its irreverence.
It's also unique because most of the characters are puppets. Yes, puppets. The actors walk around the stage holding puppets and animating them with a slew of loveable personalities.
The current production at the Jewish Community Center of "Avenue Q" is superb. The singing is as good as you'll hear anywhere else, the set and costumes are perfect, lighting and sound are flawless, and you can barely go a minute without something side-splitting happening onstage. If that's not a recommendation to go see it, it's hard to know what is.
"Avenue Q" is a satire on the beloved television show "Sesame Street" that emphasizes all our dreams can come true and everybody is special, and turns those notions on their heads.
The musical follows the life of a 20-something recent college graduate named Princeton (wonderfully played by Brent Nanney) who moves into a rundown apartment complex managed by "former child star" Gary Coleman (played by the talented Linnaia McKenzie). Princeton grapples with losing his job before it begins, wonders what his purpose is in life, pursues love with another tenant named Kate Monster (fabulously played by Samantha Agron) and realizes life is tougher than it looks on "Sesame Street."
To call this show funny is downplaying it tremendously. The dialogue is witty and smart and the songs are sublimely inappropriate. Sometimes what comes out of the puppets' mouths is shocking not only in its political incorrectness, but in the fact that you can't stop laughing. What makes it funny and not patently offensive is that it's done in good fun, and there's nothing mean-spirited about it.
With a show this good almost every song is a crowd favorite, but highlights include the song "Everyone's a little bit racist," where McKenzie as Gary Coleman sings "Ethnic jokes may be uncouth, but you laugh because they're based on truth," and "The Internet is for porn," where the shamelessly depraved character Trekkie Monster (played by Joe Nuzum) sings "Why do you think the Internet was born? Porn, porn, porn."
The cast is excellent and they're all incredibly talented. It's hard to think how their singing could possibly be better, and the acting is effortless and natural.
One of the most impressive things about this show is the dual portrayal each actor has of the puppet and the human controlling the puppet. Both were expertly done.
The actors did a great job of bringing the puppets to life with actions like a hair toss, quivering confused head-scratching, angry gestures, dancing a waltz and even a raucously hilarious scene where Princeton and Kate have puppet sex.
What's surprising at the end of the show is that despite the road of debauchery we've happily traveled along, the destination is sentimental and inspiring. There's actually a lesson to be learned, a moral to be taught and heart strings to tug.
"Avenue Q" may be playing at a community center, but there is nothing amateur about it. Most community centers and community theater in general can only dream of putting on a show this good.
The show is a lot smarter than a production about puppets should be, the lesson learned here that even when we grow up, we don't stop learning from puppets.