Local Mongolian restaurant is a must try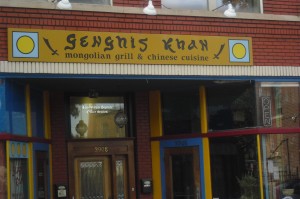 Very rarely does a day go by where I wake up and don't want to eat at Genghis Khan. I'm a repeat customer – hell, I'm an adamant one. If a friend asks to go out to dinner, I always inquire whether he or she was eaten here, and I'm actually surprised at the number of people who haven't tried this delicious Mongolian restaurant.
Firstly, I feel wonderful for supporting local Kansas City restaurants, so pumping my money into Genghis Khan never fills me with remorse. Secondly, it's in the West 29th St., area located at 3906 Bell, and everyone knows this ara is adorable and full of local businesses. Thirdly, it's the most delicious food you'll ever eat, and you can thank me later for suggesting it.
If you're not familiar with the restaurant, you will be provided with a menu upon being seated. However, I rarely need the menu, because I select the buffet. No, this is not the regular buffet that you may be used to seeing in sketchy Chinese restaurants. It's quite the contrary.
The buffet consists of grabbing an empty bowl and speculating which fresh and raw ingredients you'd like to add. You can start with egg noodles and then add any vegetable you can imagine: onions, red peppers, green peppers, broccoli, water chestnuts, mushrooms and more.
After stacking on whatever vegetables are appealing, you can move down the bar and add a variety of frozen meats: cuts of chicken, beef, pork, squid, shrimp, fish, mussels, etc. After your bowl is almost entirely filled with all of these ingredients, the final step is to add the sauces and flavors that interest you. There is a guide on the top of the bar that will recommend certain spices to add in order to create a very spicy concoction, or even a mild one. You can pour garlic water, Saracha sauce, wine, vinegar, chili water, and other various options over your self-created dish.
After these decisions have been made, you take your uncooked dish up to the giant grill where an employee cooks it in front of you. After everything is thoroughly cooked, it's scooped onto a plate and is ready for you to enjoy after it cools down.
Thankfully, it's all-you-can-eat, so if you're interested in creating something different the next time around, it's free of charge. However, these standards apply only if you select the buffet, which ranges from about $13 to $15, depending on whether you wish to include the seafood. There are also little desserts on a table near the bar, as well as endless crab Rangoon, spring rolls, and chicken wings.
I've never had an issue with poor service at this location. The servers are always quick and attentive, refilling beverages and taking finished plates away from the table. The serving crowd is also very diverse and friendly, and the restaurant owner is usually near the front entrance to greet the customers.
The atmosphere is trendy and warming; there are wooden floors and a collection of intriguing black-and-white photos adorning the walls. There is also a small bar area at the entrance if a customer wants to knock back some drinks.
If you're especially hungry and want to try something new or a meal that will content your stomach, Genghis Khan is the place to be. Bundle up this winter and take an adventure inside to try some hot and fresh Mongolian dishes.