Green jobs tour comes to Kansas City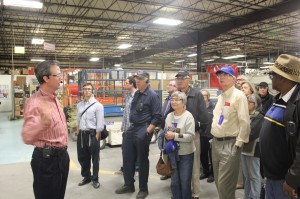 "The population growth is crazy; within 10 years, Africa will be a new China," said Eric Krichbaum, COO/Senior Vice-President of Operations at Milbank Manufacturing.
Missouri voters passed Proposition C in November 2008, requiring utilities to generate 15 percent of their electricity from renewable energy by 2021. The General Assembly stripped the requirement that the renewable energy be delivered to Missouri, undercutting the job-creating potential of Proposition C, according to a press release.
With the population of our world increasing, many feel the need for environmentally sustainable actions is a must for better communities and better quality of life.
On Wednesday, Nov. 2, 30 Sierra Club members, students and other community members took part in a Green Jobs Tour to view a business in northeast Kansas City that makes supply parts for wind turbines, solar generators and electric car plug-ins. The plant, Milbank Manufacturing, expects to hire 57 new employees to support its expanded clean-energy products.
"Milbank Manufacturing proves the potential for renewable energy to create jobs in Missouri," said John Hickey, Sierra Club Chapter Director. "It is time for the state of Missouri to expand our use of renewable energy. We know that renewable energy means cleaner air and healthier communities. Now we are showing that it also means good-paying, clean energy jobs."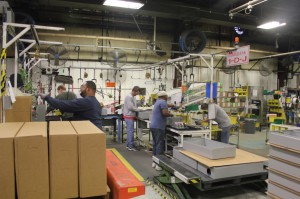 "We incorporate green in what we do," said Krichbaum. He started the Green Jobs tour with a presentation of Milbank Manufacturing and its products and philosophies that encourage environmentally friendly and efficient business. "A lot of people talk about green products but we have green plans," Krichbaum said.
Along with making parts and products that promote renewable energy, the company also offers consulting for individuals who look to make positive changes in their energy consumptions and who want change their increasing energy bill costs.
"We offer renewable energy based solutions; we want to provide guidance to customers to help people with changing to renewable energy," Krichbaum said.
"We are not ready to conquer the U.S., but individually people may want it in their homes," Krichbaum said in response to an audience member's question about his opinion on the future of renewable energy in our country.
As well as the comparison of other renewable energy, dominant countries, such as Germany which solely runs on solar and wind power, were discussed in Krichbaum's presentation. They compared government incentives of other countries to the ones in the U.S.
He discussed how Milbank Manufacturing, besides making green projects, is also changing the way it does business by new business policy deployment, waste elimination, culture transformation and altered management. "We [Milbank] think green jobs are everybody's jobs," Krichbaum said.
Renewable energy is not just important for a sustainable planet – it is also vital in improving environmental health.
"We have the importance of fighting the health effects of dirty coal," Hickey said in regard to America moving toward renewable energy.
After the presentation, a tour was given of the plant that makes the parts for the pieces used to make meter cases and grid boxes. This gave community members a closer look at what Milbank does.
USW District 11 Sub-Director Emil Ramirez said, "Our members understand that investing in clean energy technology means more good jobs right here in Kansas City. That is why the USW, along with other groups including the Sierra Club, are part of the BlueGreen Alliance. This tour will give a chance for more local citizens to see this potential with their own eyes."
The event gave students and community members encouragement that positive jobs were going to be in Kansas City.
"I went to the event to get an idea of what kind of jobs would be out there for me when I graduate," said Deanna Johnson Sapp, senior environmental science major.