Women's soccer's remarkable season comes to a close in Championship semifinals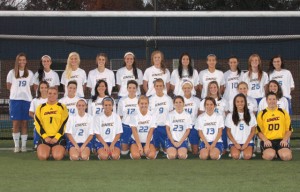 The women's soccer team's record-breaking season ended in a 2-1 defeat to the North Dakota State Bison in the semi-finals of the Summit League Conference on Nov. 4 in Rochester, Mich.
NDSU got on the scoreboard after a free kick play by Bison forward Anisha Kinnarath in the 21st minute. The free-kick was off-target but teammate midfielder Michelle Gaffney was quickest to react and headed the ball into the Roo net.
The Roos were unable to respond and went into the half trailing the Bison 1-0.
In the second half, the Roos stuck the equalizing goal when freshman Kaely Tott smashed a freekick goal-bound and sophomore midfielder Ashley Gann converted the goal with a header, bringing the score to 1-1 in the 54th minute.
With the goal, Tott recorded her third assist for the season and Gann recorded her third game-tying goal on the year.
As the game-clock wound down, it appeared as though the outcome would be the same as when the teams battled to a 1-1 overtime tie in the Summit League Conference earlier in the season.
Unfortunately for the Roos, this was not the case as Bison forward Danielle Boldenow gained control of the ball at the edge of the box and snuck a shot past outstretched keeper Jami Finnell for the game-winning goal in the 88th minute.
The Roos may have been eliminated but the future is bright as this seasons success has shown what the team is capable of under the guidance of Summit League Coach of the Year Chris Cissell and Assistant Coach Miguel Rodrigues. This season has yielded many milestones for the team and also individual players, as sophomore forward Taylor Bare was named to the All-Summit League First Team while Sarah Todd was named to the second and freshman teams.
The team also said goodbye to the first ever senior class of the program as Amanda Casalinuovo and Laura Creason finished their Roo careers with the program's most successful campaign to date.