Team wins fourth Summit League game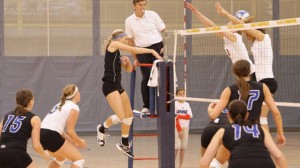 The volleyball team (10-15, 4-10) notched its fourth consecutive Summit League victory with a 3-2 win against Western Illinois University (WIU) (11-15, 3-12) in Macomb, Ill., on Oct. 29.
In the match, junior setter Ella Meier dominated throughout, matching her career-high of 52 assists, while also recording 21 digs, eight blocks, six kills and three aces. Senior Elizabeth Beck also set a new career-high with 20 kills and five digs, while junior Chloe Jarema (12) and senior Kelsey Knoche (10) also topped the kill stats.
In the first set, the Roos took a 1-0 lead in the match with a 25-17 win. The Roos built a five-point lead early, going ahead 10-5, 15 points in. After a slight comeback from the Leathernecks, the Roos scored the final seven points to take the set.
The Leathernecks quickly answered with a 25-23 second set win, tying the match at one set apiece. WIU then took its first lead of the match with a second straight 25-23 win in the third set.
Needing a win in the fourth set, the Roos dug deep to pulled off a 25-22 win, after trailing late at 22-21. In the set, the Roos ripped off the final four points of the set, on a pair of Jarema kills, a Meier ace and a WIU error, to force a fifth set.
In the deciding set, a kill from Roo senior Christiana McQuin and a Leatherneck error were enough to give the Roos a 15-10 set win and the match.
Defensively for the Roos, senior Nicole Kerkman led with a team-high 31 digs, while seniors Kara Thomas (14), Erin Wellwood (11) and Knoche (10) each reached double-figures. At the net, seniors McQuin and Demetria Williams recorded five and three blocks, respectively.
Offensively, McQuin recorded nine kills, while junior Emily Lucas finished with eight and junior Brittany Fossier pitched in with five.
The blue and gold will be back in action again for a contest against IPFW at 5 p.m. on Friday, Nov. 4 in Swinney Recreation Center.