ISAO Culture Night
Event showcases culture through international students' talents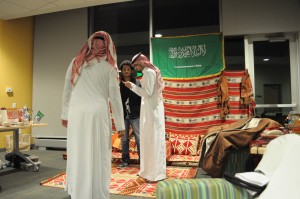 Food, dance, music and attire united students from across the globe at the annual International Student Affairs Office (ISAO) Culture Night.
The event, held from 5:30 to 9 p.m. last Saturday in the Student Union, attracted more than 500 students.
A queue stretching around the corner of the fourth floor waited for free food provided by various international student organizations.
Plates included a variety of items like Greek salad, hummus, curry, candied dates, spiced chicken and rice, representing the diversity of UMKC's international student body.
A raffle raised money for relief efforts in Somalia, topping nearly $400, according to ISAO director Sandy Gault. Three Amazon Kindles and nearly $900 in gift cards to area stores and restaurants were given to those holding winning tickets.
Members of the Saudi Students Union set up an area in the corner of the union. The male Saudi students wore traditional dress consisting of a red and white-striped headpiece, called a shema'g, held in place by a black band called an a'aqal, and a full-length robe, called a thoub.
Dressed traditionally, members of the Saudi Student Union took pictures with students at the event against a traditional Saudi textile backdrop. Arabic coffee and candied dates were served to students who passed by the table.
Saudi Student Union President Abdullah Aleidan was pleased with the reaction to the event.
"I felt that we had a good turnout," Aleidan said. "Many people came and asked questions, and we had both girls and boys to answer them. We wanted to show our culture and the development that we are having in our country."
An event emceed by ISAO Student Ambassadors Alvin Tan and Sunny Syarova introduced dance and music performances and a fashion show.
Traditional dance performances showcased talents of students from Indonesia, Vietnam, Africa and Saudi Arabia. Students from Russia and Ukraine impressed the audience with their vocal abilities.
Tan's flamboyant personality made for an entertaining presentation, building up the audience's suspense as he announced the final prize giveaways.
Tan, a native of Malaysia who became an ISAO student ambassador in July, had not attended last year's event, but said he was impressed with the outcome this year.
"I was happy it went well," Tan said. "I had great expectations for it because it was my first event, and we lived up to expectations. I love how the crowd responded. The goal of an emcee is to get a good response. Without [the crowd], we wouldn't have been successful. People stayed the entire time."
Tan, Syarova and six other ISAO ambassadors were responsible for planning, organizing and overseeing the event, which involved weeks of preparation.
The goal of Culture Night and other ISAO events, Tan said, is to connect international students with the university.
For many, the transition to American culture is a stressful process. Language barriers exist in both social and academic settings, and cultural differences exist in the minutest of daily routines, such as grocery shopping and transportation.
"I think the transition is a challenge," Tan said. "You're new to the place. It's not so much making new friends that's challenging as it is adjusting to the daily routine."
Both Tan and Aleidan said they have received a warm reception from Americans at both school and in the community.
"Our university is quite diverse," Tan said. "Every corner you go to you will see an international student. You never feel alone. Americans are usually very open to help."
Aleidan said he has found that most American students are eager to learn about other cultures and help international students adjust.
"When students know I'm from a different country, they seem interested to know about my country and they offer their help if I need it," he said.
Tan hopes the event will generate more interest in ISAO and that next year's Culture Night will be an even greater success.
"We're only as successful as students make us when they show up to events," Tan said. "We [ambassadors] do this for them, not for us."