Emperor X proves musically interesting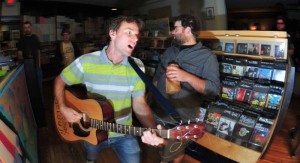 Emperor X, a mash-up of folk and indie sounds, emerged in 1998 with their first album, "The Joytakers' Rakes/Stars on the Ceiling, Pleasantly Kneeling." Though their first album title may be slightly wordy, their latest album, "Western Teleport," offers a more concise title and a visually appealing album cover. Green and blue roads are depicted on the front, which are intertwined into a tangled mess that knots together, ultimately leading to nowhere. At this juncture, teleport seems much more useful than traveling on the jumbled road.
Emperor X initially reminded me of a blander version of Interpol's vocals. There is some speaking and some singing; often they mesh together and the lead vocalist is judicious with how he interchanges them. It has appeal depending on how the vocalist chooses to use it; sometimes there is shouting, and other times, there is an undertone of more melodious song. The repetition of lyrics in the chorus of the first track, "Erica Western Transport," is slightly bothersome, relentlessly reciting "don't think of her," with various reasons why. After listening through the initial track, the listener is bound to be curious about why the singer doesn't want to think of this girl. These reasons make the track appealing, along with the instrumental intro with spunky bass and a guitar line in a major key. Several reasons are listed as to why this girl shouldn't be "thought of," and the listener is mostly apt to agree with the repetitious persuasion.
Emperor X is expertly adept at using various and unique instruments while blending them into a cohesive and likable track. The second song, "Sig Alert," is a prime example of this. The piano is threaded through the entire track with basic but appealing chords, allowing other instruments such as the guitar to layer over it. The vocals in this track are more spoken than sung, but that does not mean that it does not fit the character of the song. This band is original in this aspect. With the unique instrumentation, any listener would expect sing-song vocals over the instrumentals, but it is not always warranted. Other songs, such as "Canada Day," however, are better at inegrating the spoken vocals into a more sing-songy tune.
The album picks up pace after "Canada Day," taking on a quicker tempo. "A Violent Translation of the Concordia Headscarp," Emperor X's track four, delivers this quicker tempo, giving the listener an unquestionable boost of energy. The guitar line is uniquely fascinating with an unpredictable twist. This can ultimately conclude Emperor X's music as a whole: the factor of unpredictable musicianship makes this band interesting and exciting. There is nothing monotonous, especially concerning the fluctuation in tempo, so a new listener is apt to be enthralled at the vast array of musical expertise exemplified in the album.
If the other albums in your car are getting old, or if you're looking for a new album with which to sing along, "Western Teleport" may suit your style. If you're interested in an album with extreme vocal talent and harmonization, this album won't be quite up your alley. Perhaps the most impressive part of the album is the vocalist's ability to neglect harmonizing while employing his oftentimes bland vocals, while still crafting a musically interesting album.