KCPD showcases Mobile DWI Enforcement Center
Delta Zeta and Sigma Alpha Epsilon promote alcohol awareness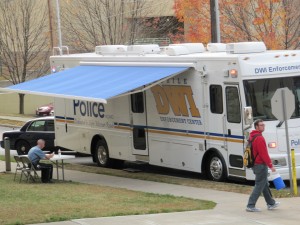 Students may have been shocked to see KCMO Police Offices guiding traffic near the Rockhill Parking Garage on Thursday, Oct. 27. What they were actually doing was showcasing their Mobile DWI [Driving While Intoxicated] Enforcement Center (MDEC).
The Greek organizations Delta Zeta Sorority (DZ) and Sigma Alpha Epsilon Fraternity (SAE) teamed up to bring the element of surprise to the Volker campus for a day of learning alcohol prevention and safety.
"KCPD brought their checkpoint bus and allowed any interested students to take a look in the vehicle and hear mind-blowing statistics about drunk driving," said DZ Vice President of Programming, Kelly Schmittgens.
The MDEC, along with the Missouri Highway Patrol Breath Alcohol Test Van, funded by the Missouri Department of Transportation, were created last March to prevent and contain drunk driving during the St. Patrick's Day celebrations.
The $395,000 MDEC, complete with computers and a network connected to the department location, has the capability to process up to five impaired drivers at once.
"So many times people, especially the college crowd, see the police as an annoyance. This was something that the event was designed to help fix," said Risk Management Chair of SAE, Joey Eastman. "Bringing the KCPD onto campus in a positive way with a good message granted the middle ground for many to become positively acquainted with those who protect us."
People typically don't see the mobile center, which is used whenever a checkpoint is set up to prevent drunk driving and ensure the safety of everyone on the road, at least not until they are taken aboard.
According to the KCPD, Kansas City is the leader in alcohol-involved crashes, fatalities and injuries for Missouri.
In 2010, about 63 percent of traffic-related deaths involved alcohol as the leading factor.
"It was a pretty successful event, and I know I heard a few people come out of the bus pretty impressed," Schmittgens said.