University Center set to close for renovations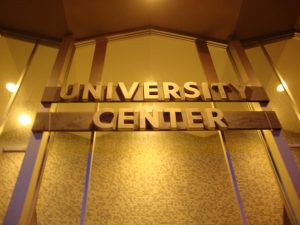 In preparation of the Student Success Center project, parts of the University Center will be closed for reconstruction beginning Nov. 2011 through Aug. 2012. Only a few sections of the building will remain open to students, faculty and staff.
Before renovation begins, a moratorium on conference and event activities will be enacted until after the reopening of the renovated areas. Reservation requests for Pierson Auditorium and conference spaces will be suspended until June 18, 2012.
Activities and events in Pierson Auditorium will continue through Nov. 6, 2011. Thereafter, all activities scheduled from Nov. 7 through Nov. 30 will be relocated to the Student Union Conference and Meeting Services.
In addition, plans have already been made for temporary relocation of select offices in the University Center.
The One Card Office and the Mind-Body Connection both relocated to the Student Union. The Year 1 and 2 Medical Advising Office relocated to Oak Street Hall. The Office of Services for Students with Disabilities relocated to the 4825 Troost Building. Administrators are still trying to decide where to move the University Barbershop before construction begins.
All contact information for staff of these offices, with the exception of physical address, remains the same.
The University Center Cafeteria will remain open during reconstruction due to its importance and immobility of services.
The entrance into the dining areas will be available through the north atrium entrance of the building.
Once renovations are complete, the Mind-Body Connection and the Office of Services for Students with Disabilities will return to the building, along with several new additions, including the Writing Center, the Center for Academic Development and Career Services.
The renovated building will also house a new Student Success Center with central services for students who aren't familiar with the various locations of administrative services throughout the campus.