Women's golf takes 2nd at Payne Stewart Memorial Tournament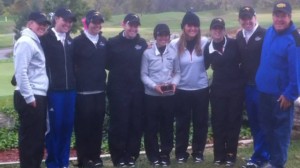 The women's golf team took second place in the MSU/Payne Stewart Memorial Tournament in Springfield, Mo. last week on Oct. 17-18. With a total score of 926 (304-309-313), the Roos walked away with their heads held high as they recorded their best finish in a tournament since 2009. Freshman Rachel Mulkey (74-76-80) and Micah Radler (77-76-77) both led the Roos, tallying total scores of 230 and tying for 7th place on the individual leaderboard. Just three shots back was junior Taylor Fisher at a total of 233 (76-79-78), enough to place her in 16th. Freshman Susan Kirschenman (77-78-80) tied for 18th place with a total of 235, while junior Emily Isaacson recorded a 236 (78-80-78), and earned a 21st place overall tournament ranking.
Competing as individuals were senior Madison Maddox and freshman Kailee Kuehn. Maddox shot a 231 (80-75-76) tying her for the 11th spot, while Kuehn notched the 49th rank with a 254 total score and (85-80-89). Wrapping up the tournament as well as the fall season, Mulkey said, "I think we all played really well and we broke a lot of records; like this last tournament was our best finish in a division 1 tournament in a while. Last year we did 50 strokes worse so there has been a lot of progress so far. We're really going to work hard this off-season. One of our goals is to break 300 next season. I think the spring season we're going to do really well".
Kuehn also expressed a desire for the team to reach 300.
"We feel great about the season. We're seeing the potential of our team. We moved up a tremendous amount in the Golf stat rankings. We're excited about the direction the team is headed and looking forward to our next season," Kuehn said.
After a fall season which many program records were rewritten, the women's golf team will tee off again in the spring of 2012.