Los Corrals: Family-run restaurant still going strong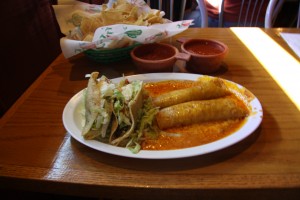 Los Corrals, a family-owned restaurant at 408 W. Ninth St., has established itself as one of downtown's best Mexican eateries since it was founded 62 years ago.
The service is superb. Customers are greeted promptly when entering the establishment and once seated, are immediately given warm tortilla chips and salsa. It serves delicious, hot and fresh entrees.
The food, based on my experiences, is usually served within 10 minutes of placing an order.
The menu of traditional Mexican dishes is complemented by the addition of some American dishes like hamburgers and cheeseburgers. There is also a full bar serving most alcoholic beverages and specializes in tasty margaritas and daiquiris.
"The tacos are a favorite," said owner Josephine Ortega. "We make them the old-fashioned way, 'no shells'. We fry the meat and tortillas together."
The warm and crispy tacos are filled with ground beef, lettuce, lightly-chunky tomato sauce and are topped with fresh ground parmesan cheese. Another favorite is the burrito spread. It includes chunks of chicken, pork or steak, covered in a mild red sauce and cheese, rolled into a flour tortilla and topped with a melted cheese spread.
There are numerous entrée options to choose from, including steak, shrimp or chicken fajitas; all are presented sizzling on a cast iron skillet, served with warm flour tortillas, rice and beans. There are also four desserts to choose from, including fried ice cream and a banana caramel cheesecake.
Los Corrals is affordable for everyone, especially those on a tight budget. Prices range from $1.65 for a single taco to $18 for the Big Three Fajitas, which is a combination of chicken, beef and shrimp and includes beans and rice, three flour tortillas, sour cream, guacamole and pico de gallo.
The staff members of the operating family work hard to accommodate all guests, especially on busy nights when the wait list can vary from 20 to 45 minutes. The restaurant is open until 9 p.m. on weekdays and 10 p.m. Fridays and Saturdays, but is closed on Mondays.
A restaurant in the making
Los Corrals originated in 1949 when owner Josephine Ortega's parents opened a small location at 14th Street and Pennsylvania Avenue. The location closed in the '60s.
"The city took the restaurant for the traffic-way," Ortega said. "We moved to this location February of 1964. We've been at this location for 47 years."
Ortega has been the owner of the restaurant since her parents and siblings passed away. The staff consists mostly of family members such as nieces, nephews, children and grandchildren. With hard work and continued support from customers, Los Corrals has become a household name in the Quality Hill area of downtown.
"It has been a family favorite for years," regular customer, Shawn Addington said. "My granddad would bring my dad, my uncles, me, my brothers, and my whole family in here. We've been coming a long time."
Mona Falcon, employee and niece of Ortega, said, "I've been working here for 20 years and the experiences I've had with the customers have been some of the best experiences of my life. I have literally watched customers grow up here."