Kin Lin to expand into former Muddy's spot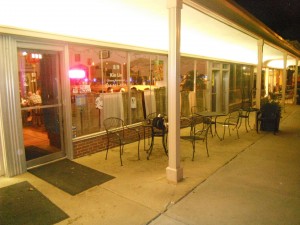 One of the several vacant storefronts at 51st and Oak streets has finally found a new tenant.
Kin Lin Chinese restaurant will be expanding its operations into the vacant space next door. The space was formerly Muddy's Coffeehouse, which closed in May 2011.
A contract was signed on Oct. 11 with UMKC, which owns the building. The contract is currently awaiting city approval.
The popularity of the restaurant among students was a driving factor behind the decision to expand, according to employee David Basties, who has worked at Kin Lin for four years.
Jeff and Joanna Ruan, who have owned Kin Lin for the past 20 years, made the decision to rent the space next door and expand.
"Many businesses wanted the space but UMKC chose Kin Lin to occupy the open space," Basties said.
Basties attributed Kin Lin's popularity to its proximity to UMKC and affordability.
"They [Kin Lin] try to put the entrée price low because they always keep the students in mind," Basties said.
The new space will contain expanded seating and a party room customers can rent.
One effort of the renovation is to make Kin Lin a night destination.
The menu will be expanded with a bubble tea selection, and beer and other alcoholic beverages have also been discussed by the owners as possibilities, Basties said.
A Friday night karaoke will also help make Kin Lin a destination for students.
"We don't want people to have to rush when they are here" Basties said.
He also said he expects the new, expanded Kin Lin to be even better received.
In local magazine The Pitch, Kansas Citians voted Kin Lin landed among the 3 in the category of Best Chinese Restaurants in the annual Best of KC 2011.
"This is out of more than 600 restaurants over all of Kansas City, Mo. area, this was chosen by the people." Basties said.
He is confident the expansion will be a success due to the community's support of the restaurant already.
The goal is to have the space renovated and opened within 90 days after the city approves the renovation.
"They have always wanted to expand to give better service," Basties said. "Kin Lin tries to get what is best for UMKC, what is best for Brookside, and what is best for the students. We want to make this feel like a neighborhood restaurant."