Bowling for history: History club hosts competition at Royall Hall
With additional reporting by Cyrus Moffet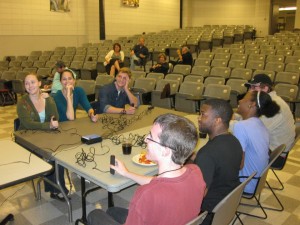 The history club had its annual History Bowl this Wednesday. It was hosted by Austin Williams, a charismatic history buff and secretary of the club, who kept the audience entertained by making history-wise jokes like calling the Huguenots "a good doo-wop group."
Emeritus History professor Dr. Jim Falls said, "It was too bad more students did not participate but at least those who did had a great time. And the faculty enjoyed knowing that their students have been learning something."
Despite the turnout, Williams said, "I'm very happy with the way that the History Bowl went. We had some great participants and many more students showed up after the official event ended. We continued to play many more rounds with everyone participating."
The questions during the official event included the Great Fire of London, the right to vote for women, and the Kansas-Nebraska Act. The competition itself had two teams of four people each, named Team Danger (One) and Team Two. Team Two won by a comfortable margin, and won gift certificates and the bragging rights. There were some professors from the History department present, like Dr. Carla Klausner and Dr. David Freeman, among others.
"[The History Bowl] was a great start to this year's events," Williams said. "The history club has been working really hard this year to offer some unique events and opportunities to UMKC students."
The history club has many other events planned for the semester. It is having a war film showing in honor of Veterans Day on Tuesday, Nov. 15.
The film will be chosen based on students' votes through a Facebook poll. Later in November the club will host a luncheon with discussions to help undergraduate students look for the right graduate school, as well as help guide them through the admissions process. The history club will also have a Senior Send-Off on Dec. 8 in the Student Union. This event displays the senior research projects obligatory for history majors.
"Looking forward to the spring semester, we are developing our first annual career workshop which will introduce students to community professionals and give an overview of available career opportunities in the public history field," history club president Elizabeth Bartels said. "Additionally, we promote volunteer opportunities and events within the Kansas City history community."
The history club is working to expand its outreach to the community around UMKC.
"We are beginning to work with local historical societies, such as the Union Cemetery Historical Society and the Raytown Historical Society to offer our services as volunteers and to help promote upcoming events," Williams said.
The history club is open to all UMKC students. "The history club is always looking for new members and we encourage students from all disciplines to join," Bartels said. And as Williams put it while he was hosting the event, "We all love our history."
For more information, contact Elizabeth Bartels at [email protected] You can also see more about the history club on its Facebook page: UMKC History Club.