Remembering a Roo: Rashonda Stanley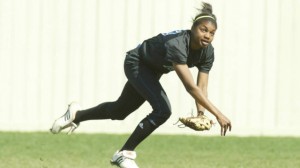 Last week, the softball program lost one of its former members.
Recent graduate student Rashonda Stanley passed away on Oct 2. Shonda, as she was affectionately known by her family, friends, coaches and teammates, brought a great level of dedication and intensity to both the classroom and the softball field during her time at UMKC.
The Jefferson City, Mo., native played a number of roles for the Kangaroo softball team, splitting time as a skilled outfielder and a crucial pinch runner. Perhaps the most contagious aspect of Shonda's personality was her smile and her upbeat attitude and contribution to the team spirit within the Roo outfit.
The No. 18 wore the blue and gold for three and a half seasons, and will be remembered as a special individual with a divine ability to conjure a laugh or smile from a teammate, coach or supporter. In her academics, Shonda consistently showed great passion toward her in-class endeavors.
Her educational success and her expression of love and compassion towards her teammates, will live on in the memories of UMKC as a whole, as well as in the campus and student-athlete communities.
Rashonda Stanley's memorial service was held in her hometown of Jefferson City on Monday, Oct. 10 where friends, family and everybody Shonda touched celebrated the life of their smiling star.
In respect of Shonda's life, U-News would also like to take this opportunity to recognize Shonda's sporting, academic and overall community contributions throughout her time at UMKC and throughout her 22 short years with us.